Papaya varför jag äter både kärnor och frukt. Granatäpple kärnor är ju mest kända för att kunna konsumeras, men papaya kärona går också att äta fast smaka inte lika gott och fyller en helt annan fuktion.
De flesta röda/mörka frukter innehåller mängder med antioxitander och är super att äta för att boosta kroppens immunförsvar. Granatäpple, vindruvor, blåbär etc. När jag känner att jag börjar bli sjuk så köper jag alltid hem några granatäpplen och äter morgon och kväll. Utöver dens fantastiska funktion så smakar ju dessa magiska kärnor himmelriket.
Papaya äter jag av många aneldningar. Dels smakar denna frukt otroligt gott och tillfredställer ofta mitt sug efter godis. Den är mjuk som en melon och innehåller även många antioxidanter. Papaya innehåller också ett enzym som heter papain, som hjälper till att smälta bla protein i kroppen. Jag har haft problem med just matsmjältningen så jag upplever att papaya hjälper mig.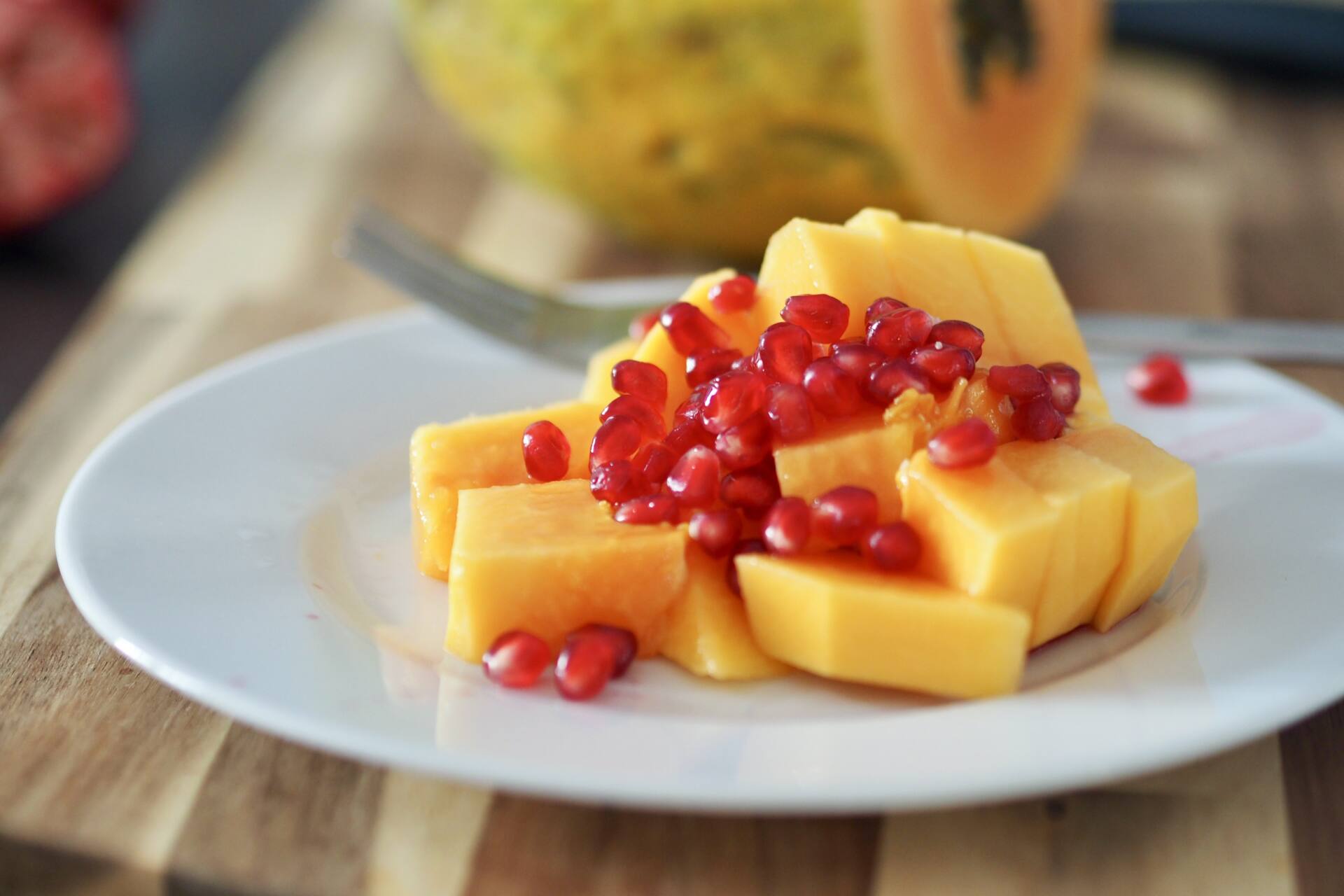 Nu till fröna, som inte skall slängas utan kan konsumeras. Fröna har en nötig stark smak, lite åt krassehållet. De är super att ha i sallad och ibland brukar jag till och med slänga ner några i smoothien, men ha i åtanke att det kan ge en stark smak. Varför äter jag då fröna? Jo, de sägs ha en detoxande effekt, utrensande och boostar för levern. De sägs även kunna rensa ut parasiter och har antibakteriella egenskaper. Varje gång jag äter dem upplever jag att mina toalett besök blir enklare och kroppen arbetar bättre. Så en rekommendation är att alltid utforska alla frukters innehåll och se om du lär dig något nytt.
Papaya sälj hos Lidl för en väldigt bra peng just nu – Lidl
---
English
Papaya and pomegranate are two of my favorite fruits where both the flesh and the seeds are great to eat. Pomegranate seeds are best known for being consumed, but seeds can also be eaten but do not taste as good and fill another function.
Most red/dark fruits contain lots of antioxidants and are great to eat to boost the body's immune system. Pomegranate, grapes, blueberries, etc. When I feel that I am starting to get sick, I always buy some pomegranates at home and eat morning and evening. In addition to their fantastic function, these magical seeds taste like heaven.
I eat papaya for many reasons. This fruit tastes incredibly good and often satisfies my craving for sweets. It is soft as melon and also contains many antioxidants. Papaya also contains an enzyme called papain, which helps digest protein in the body. I have had problems with digestion so I feel that papaya helps me.
Now to the seeds, which should not be discarded and can be consumed. The seeds have a nutty strong taste. They are great to have in salads and sometimes I even throw them in my smoothie but keep in mind that they can give a strong taste.
Then why do I eat the seeds? Well, they are said to have a detoxifying effect, cleansing and boosting the liver. They are also said to be able to clear out parasites and have antibacterial properties. Every time I eat them, I find that my toilet visits become easier and my body works better. So a recommendation is to always explore the contents of all fruits and see if you learn anything new like you can eat the seeds.