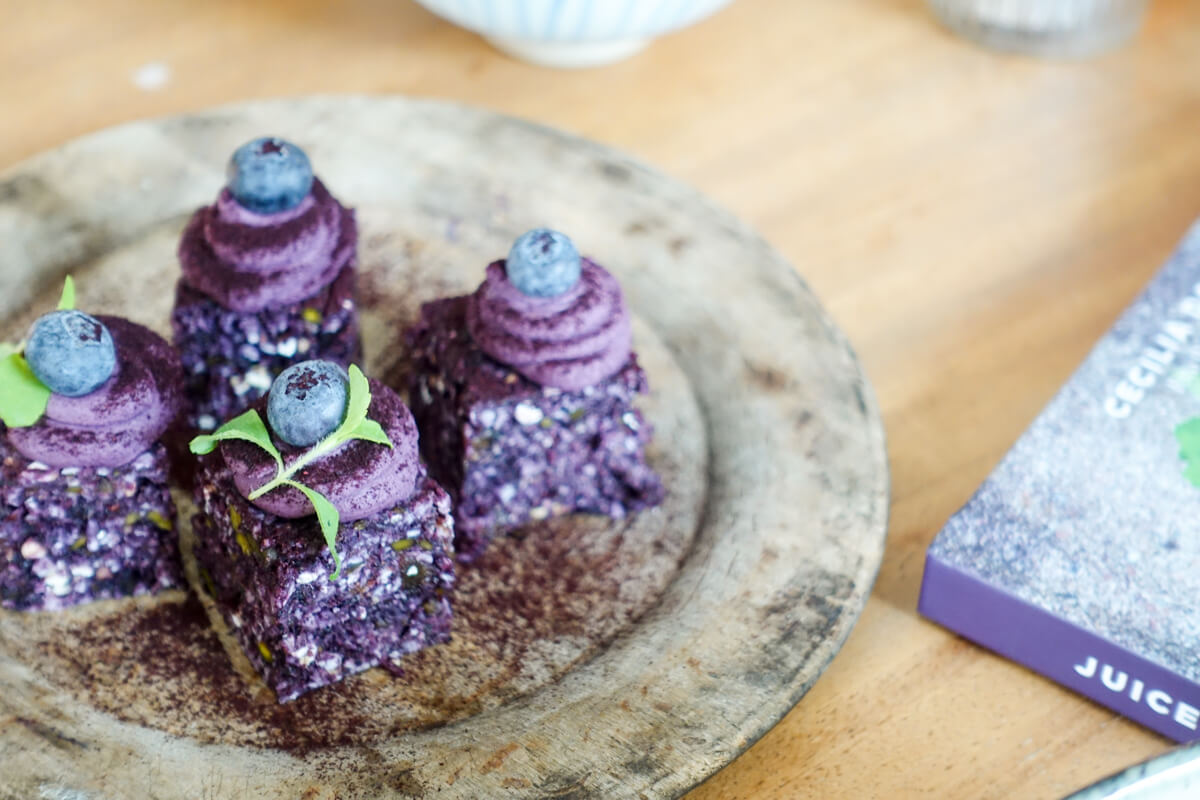 Idag hade jag ett sådär underbart gott möte, som gör att jag bara älskar mitt arbete, med Cecilia Davidsson som har Catering firman Curlyfood. Hon bjöd mig på lunch hos henne och gör hon det tackar man inte nej för hennes mat är gudomlig. Hon är gudomlig som person också och har verkligen hjärtat i företaget tillsammans med hennes kollega Ebba. Deras mat är precis i linje med hur jag ser på mat och jag skulle nog säga att det är det godaste jag ätit på länge.

Medan vi satt och pratade mumsade jag i mig en otroligt smakrik rårissallad med bl.a. blomål, torkade tomater och örter. Till det åt vi krämig tomatsoppa, bananbröd och te med en liten söt dessert av groddat bovete. Hon vet ju definitivt hur hon ska träffat mitt mathjärta. Ohh vill äta hos henne varje dag…. Jag var proppmätt när jag gick därifrån och det ångrar jag inte för en sekund, även om jag knappt kunde cykla hem efteråt. Tack Cecilia för idag. Maten var fantastisk och mötet mycket trevligt.
Cecilia har catering med ren, ekologisk mat och har stor kunskap om rawfood, cleansing och läkande kost. Jag skulle anlita hennes catering alla dagar i veckan. Hon har precis släppt bok och gör recept för tidningen hälsa, som är med i senaste nr. Ha en fin middag och njut av god läkande mat. Stor kram Maya
---
Today I had such a wonderful meeting, which makes me love my job, with Cecilia Davidsson, who has the Catering company Curlyfood. She invited me to lunch at her place and if she does that you should not say no. She is divine as a person as well and cooks with her heart together with her colleague Ebba. Their food is just in line with how I look at food and I'd probably say it's the best I've eaten in a long time.
As we sat and talked, I had an amazingly tasty salad salad with cauliflower, dried tomatoes and herbs. To that we ate a creamy tomato soup, banana bread and tea with a little sweet dessert made of sprouted buckwheat. She definitely knows how to win my food heart. Ohh I want to eat her food every day …. I was so full when I left, but do not regret it for a second, even though I could hardly ride home afterwards. Thank you Cecilia for today. The food was amazing and the meeting very nice.
Cecilia has a catering firm that makes pure organic food and has extensive knowledge of raw food, cleansing and healing diet. I would hire her catering firm every day of the week. She has just released a book and makes recipes for health magazine in Sweden. Have a nice dinner and enjoy the good healing food. Great hug Maya