Blomkålsvingar, hummus & råa grönsaker – så här gör man dem! Detta recept gjorde jag i somras och de har legat och marinerats ända sedan dess, men nu var det dags. Det har ju blivit en trend, en Tiktok trend att skapa culliflower wings och så klart var jag tvungen att prova. So, here they are!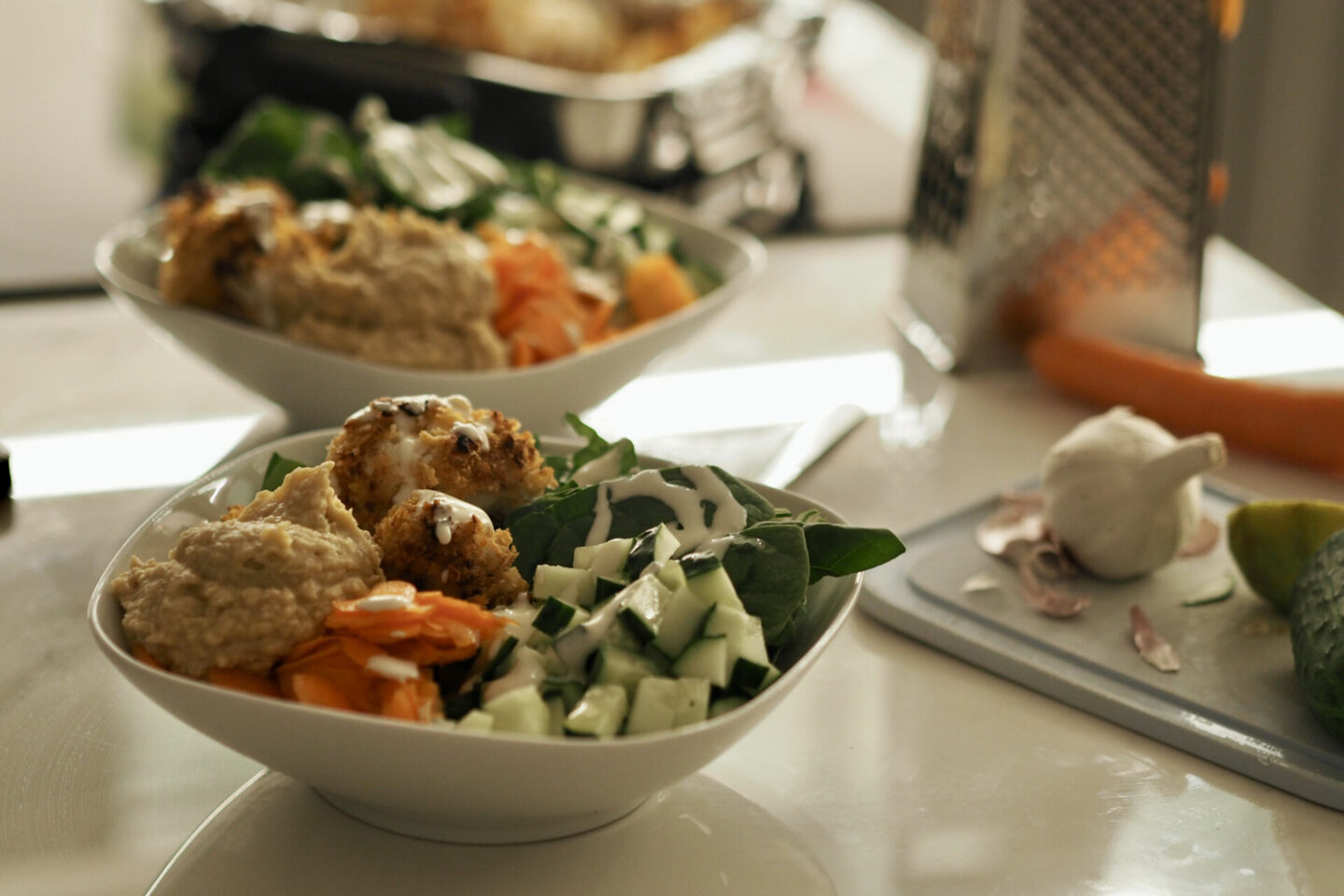 Vem visste att blomkål kunde bli så gott? Culliflower wings får 5/5 för det var enkla att göra, krispiga och goda i olika variationer. Hoppas du också gillar dem!
Så här gör du:
Sätt ugnen på 225 C

Dela blomkålen i mindre buketter. Sikta mjölet. Blanda i yoghurt, vitlök och cayenne tills allt blir en jämn smet.
Vänd runt buketterna i smeten, låt rinna av och rulla sedan i panko. Lägg blomkålen på en plåt med bakplåtspapper. Rosta mitt i ugnen ca 20 min.
Under tiden kan du blanda ingredienserna till glazen. När buketterna är klara första vändan i ugnen kan du försiktigt vända dem i glazen och sedan rosta dem ytterligare 10 min.
När buketterna marineras i ugnen kan du mixa din mango tillsammans med din yoghurt så att du får en smarriga dipsås. Vill du så addera lite lönnsirap, men det är valfritt. Hacka sedan din salladslök och koriander. När buketterna är färdiga så garnera med sesamfrön, salladslök och koriander. ENJOY!
Här hittar du receptet på hummus
---
For you all English speaking followers
Ingredients
1 st cauliflower
2,5 dl buckwheat flour or any other glutenfree flour
2 dl Alpro yogurt
2 garlic cloves, pressed
0,5 tsp cayenne powder
2,5 dl glutenfree panko
Glaze
2 tbsp siracha (chilisås)
1 dl maple syrup or honey
3 tbsp tamarin, glutenfree soja suace
Spices of your chooses, curry, paprika, chili, ginger
1 tsp mustard, optional
Dip sauce
2 -3 dl Alpro yogurt
1 dl Mango mixed
Garnish
Koriander
Sesamfrön
Salladslök
Directions
Divide the cauliflower into smaller bouquets. Sift the flour. Mix in yogurt, garlic, and cayenne until everything is a smooth batter.
Turn the bouquets around in the batter, let them drain, and then roll in the panko. Place the cauliflower on a plate with parchment paper. Roast in the middle of the oven for about 20 minutes.
In the meantime, you can mix the ingredients for the glaze. When the bouquets are ready for the first time in the oven, you can gently turn them in the glaze and then roast them again for 10 minutes.
When the bouquets are marinated in the oven, you can mix your mango together with your yogurt so that you get a tasty dipping sauce. If you want you can add some maple syrup, but it is optional. Then chop your green onions and coriander. When the bouquets are ready, garnish with sesame seeds, green onions, and coriander. ENJOY!