Nytt ställe och ny möjlighet att smaka på fantastisk mat, eller..?
En ny vegansk "snabbmatsrestaurang", med fokus på hamburgare. All is vegan! Jag var taggad att prova deras meny. The Green Butcher ligger på sveavägen 53 i Stockholm och delar lokal med Folkparken.
Så här skriver The Green Butcher själva om sitt koncept
"Grönsakernas egna karaktärer förtjänar att lyftas fram. Därför smakar The Green Butchers mat just grönsaker.
I centrum står gröna råvaror med högt näringsvärde och bevisad effekt på hälsan. The Green Butcher är helt enkelt en hyllning till växtriket. Vi som ligger bakom The Green Butcher har gedigen erfarenhet av svensk och internationell matlagningskonst med fokus på råvaror. Genom att påverka fler att välja grön kost vill vi bidra till en bättre värld.
/ Jon Birgne, grundare The Green Butcher"
Vid första klivet innanför dörren möts jag av Jon Birgne, som är grundare av The Green Butcher. Han säger hej med ett stort leende, vilket sätter tonen för min upplevelse.
När jag ska beställa mat gör jag det via en rosa ipad, likt känslan från en "snabbmatskedja" och sedan får jag välja ifall jag vill ta med maten hem ala en klassisk "drive thru lucka" eller om jag vill sätta mig ner i baren. Jag sätter mig i baren och får maten serverad. Hitintills är min upplevelse välkomnande och jag undrar och maten kommer bygga på eller stjälpa min upplevelse. Jag beställer in lite av varje för att verkligen få känslan av deras meny.
Min order:
Green Butcher Original Burger – Toasted Corn vegan mayonnaise | Green Butcher Beetroot burger | Cheese | Pickles
The Soup mini – Mulligatawny soup with Garlic toast. Klassisk Mulligatawny, från min farmors Calcutta. linser, rostad spiskummin, bockhornsklöver, ingefära och en gnutta chili från Kashmir. Den här var otroligt god!
The Salad mini – Salladsblad | Picklad blomkål | Mungböncreme | Broccoli | Beetroot-falafel | Gräslök & citron vinägrett | Rostade pumpakärnor & solrosfrön
4 olika dipsåser – Vegansk mayonäs, Roasted corndip, Red kale salad, den sista har jag glömt namnet på, men det var en grön pesto, väldigt god.
Maten kom in och det vattnas i munnen. Kocken serverar mig och berättar allt innehåll. Kommer jag gå ditt igen tror ni? Fortsätt läs nedan…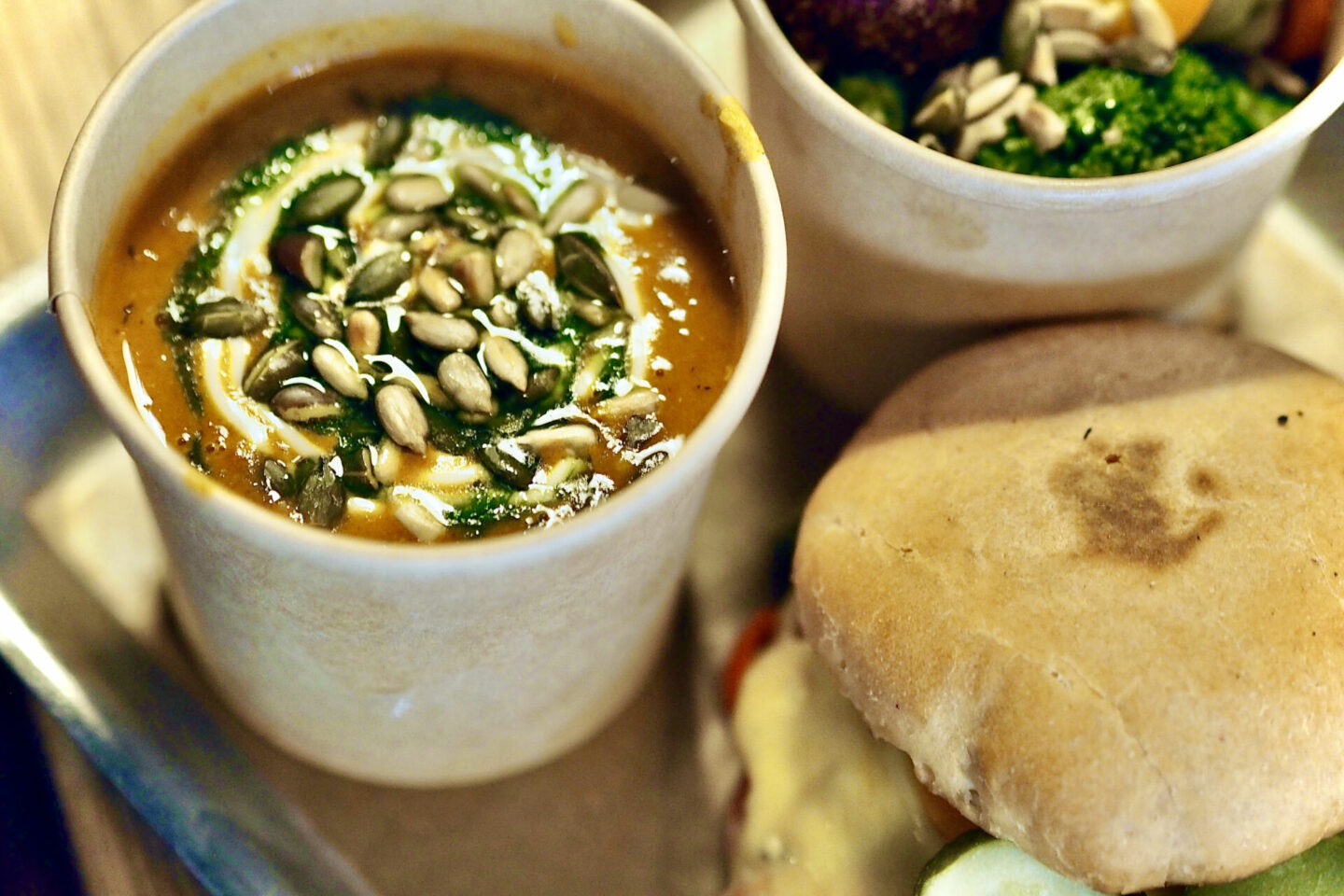 The Green Butcher får 5/5 stjärnor.
Alla mat var smakrik. Atmosfären var inbjudande och servicen var positivt och lättsam. Ett ställe jag definitivt kommer vilja besöka igen. Precis som jag skrev ovan fick jag nästa omedelbart en "hemma hos" känsla. Det är så jag vill känna när jag ska äta. Nice häng, med bra vegansk snabbmat utifrån rena riktiga råvaror. Tack Jon med personal för ett trevligt omhändertagande.
Vilken typ av restaurang: Vegansk snabbmat
Utseende restaurang: Rosa och neon. Känslan av en amerikansk dinner fast på svenskt vis.
Första intryck, känsla och energi: Positivt och färgglatt, med avslappnande känsla och bra energi.
Service: Utmärkt. Väldigt trevliga och fick känslan av att jag nästa kunde ta av mig skorna och sätta upp fötterna på bardisken.
Utseende mat: Färgrikt precis som utseendet på Green Butcher.
Smak: Mycket smak. Vitlök, chilli, salt, söt. Såserna var gudomliga.
Favorit rätt: Deras soppa/gryta. Oh herre gud vad den var god!
Konsistens: Bra konsistens på hamburgaren. Det var ingen "klassisk" syntetiskt hamburgarsubstitut, utan grönsakerna är i fokus. En välgjord hamburgare, med bas på grönsaker. Förväntar ni er känsla av en traditionell hamburgare så skal ni inte gå ditt.
---
The green butcher – A new place and new opportunity to taste fantastic food, or ..? A new vegan "fast food restaurant", focusing on burgers. All is vegan. The Green Butcher is located on Sveavägen 53 in Stockholm
On my first step inside the door, I meet Jon Birgne, who is the founder of The Green Butcher. He says hello with a big smile, which sets the tone for my whole experience. When I order food, I do it via a pink iPad and then I sit down at the bar and get the food served. So far, my experience is welcoming and I wonder if the food will give me even more positive feelings. I order a little of each to really get the feel of their menu.
My order:
– GREEN BUTCHER ORIGINAL BURGER – Toasted Corn vegan mayonnaise | Green Butcher Beetroot burger | Cheese | Pickles
– THE SOUP mini – Mulligatawny soup with Garlic toast. Classic Mulligatawny, from my grandmother's Calcutta. lentils, roasted cumin, fenugreek, ginger, and a pinch of Kashmir chili. This one was incredibly good!
– THE SALAD mini – Salladsblad | Pickled cauliflower | Mung bean cream | Broccoli | Beetroot falafel | Chives & lemon vinaigrette | Roasted pumpkin seeds & sunflower seeds
– 4 Dip sauces – Vegan mayonnaise, Roasted corn dip, Red kale salad, the last one I forgot the name of, but it was a green pesto sauce, very good.
The Green Butcher gets 5/5 stars.
All food was tasty. The atmosphere was inviting and the service was positive and light-hearted. A place I will definitely want to visit again. Just as I wrote above, I almost immediately got an "at home" feeling. Overall a nice hang-out, with good vegan fast food based on pure real ingredients. Thank you Jon and staff for your nice hospitality.
Type of restaurant: Vegan fast food
Appearance restaurant: Pink and neon. The feeling of an American diner but the Swedish way.
First impression, feeling, and energy: Positive and colorful, with a relaxing feeling and good energy.
Service: Excellent.
Appearance food: Colorful just like the look of Green Butcher.
Taste: A lot of taste. Garlic, chili, salt, sweet. The sauces were divine.
Favorite dish: Their soup/stew. Oh my god, what a good thing it was!
Consistency: Good texture on the hamburger. It was not a "classic" synthetic hamburger substitute. A well-made hamburger, based on vegetables. If you expect the feeling of a traditional hamburger, you should not visit