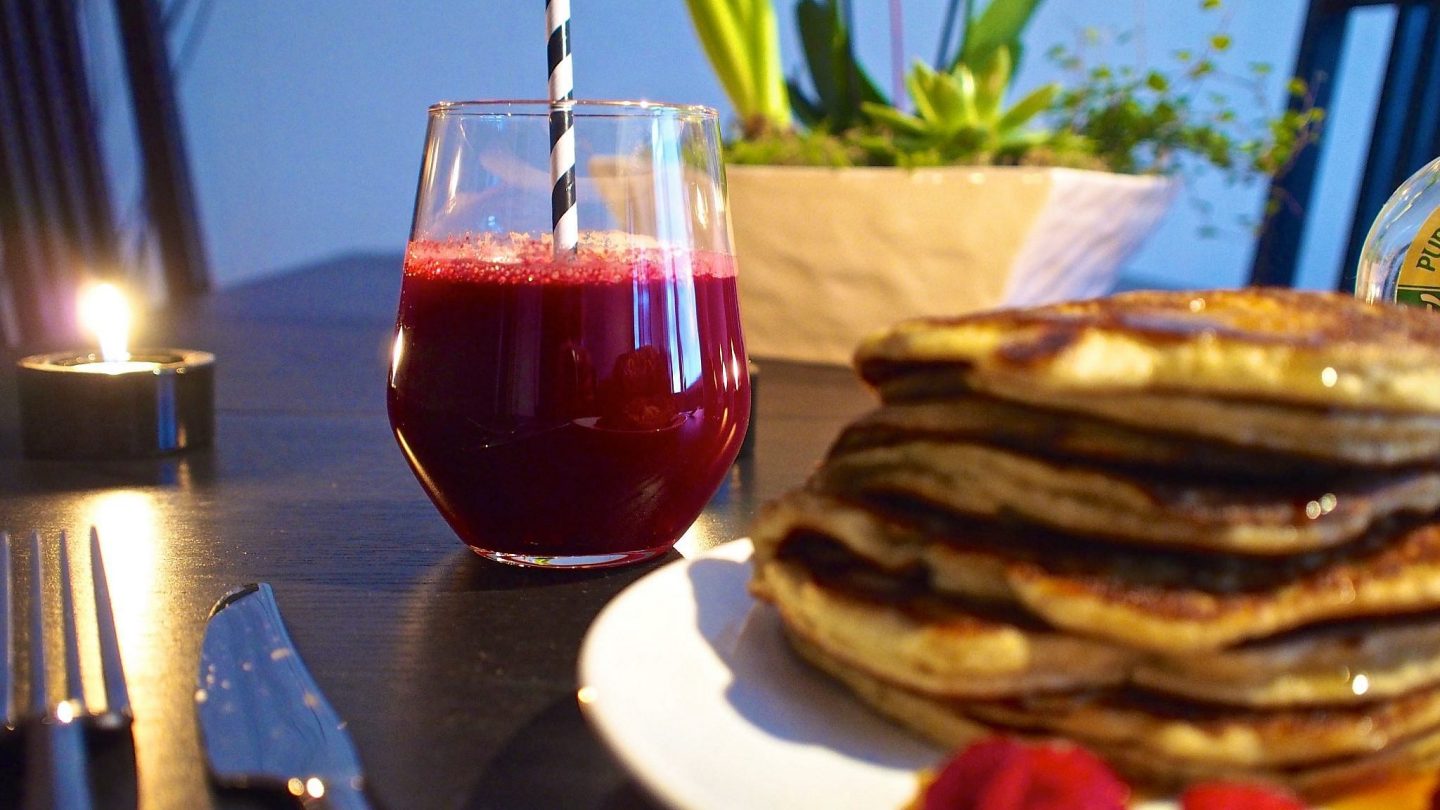 Godmorgon, första dagen på det nya året!
Ja det får bli godmorgon då ju alla var uppe sent igår och vissa säkert fortfarande ligger och sover. Själv kan jag inte sova längre än till kl.8 även om jag har varit uppe sent, eftersom min kropp är van vid att komma upp tidigt och sätta igång.
Trots all god mat vi åt sent igår vaknade jag idag med en aptit som om jag inte hade ätit på länge.
Jag var sugen på nästan allt och därför blev det en otroligt smarrig och näringsrik brunch med bl.a. gluten- och mjölkfria amerikanska pannkakor, utan raffinerat socker. Pannkakorna toppade jag med ekologiska hallon och ekologisk lönnsirap.
Jag gjorde även råpressad juice från grunden med ekologiska morötter och rödbetor.
Till sist avslutade jag denna goda brunch med en uppiggande guarana & acai bowl från Macacos.
Amerikanska pannkakor
Ingredienser:
4 ekologiska ägg
1 dl oatly fraiche
1 dl havremjölk
2,5 dl mandelmjöl
1,5 msk fiberhusk
0,5 tsk ekologiskt vaniljpulver
1 tsk kardemumma
1 tsk bakpulver
1 msk agavesirap
Kokosolja till gräddning
Topping: Ekologiska hallon och lönnsirap
Gör så här:
Blanda ägg, fraiche och mjölk väl med en elvisp. Tillsätt därefter alla torra ingredienser och honungen samt vispa igen till en slätt smet. Låt stå i ca 5 min. Grädda pannkakorna i kokosolja i en stekpanna på medelvärme.
Njut dina smarriga amerikanska pannkakor tillsammans med färska bär och lönnsirap.
Min juice har jag gjort i en råsaftsentrifug. Det är bara att pressa med de frukter och grönsaker ni själv gillar.
Magisk fortsättning på den första januari!
Kramar Maya
---
Good morning, the first day of the new year!
Yes its good morgon since everybody was up late last night and some certainly still are sleeping. Myself, I can not sleep longer than 8 am although I've been up late, because my body is used to getting up early and getting started.
Despite all the good food, we ate late yesterday I woke up today with hunger as if I had not eaten in a very long time.
I had a craving for almost anything and therefore it decided to make an incredibly yummy and nutritious brunch.  Among other things, i made gluten- and dairy-free American pancakes, without refined sugar. I topped the pancakes off with organic raspberries and organic maple syrup.
I also made a raw juice from scratch with organic carrots and beets. Yummy!
Finally, I finished this delicious brunch with a refreshing Guarana & acai bowl from Macacos.
American pancakes
Ingredients:
4 organic eggs
1 cup oatly sour creme 
1 cup oat milk
2.5 cups almond flour
1.5 tbsp fiberhusk
0.5 tsp organic vanilla powder
1 tsp cardamom
1 teaspoon baking powder
1 tbsp agave syrup
Coconut oil for baking
Toppings: Organic raspberries and maple syrup
This is how you do it:
Mix the eggs, cream and milk well with an electric mixer. Then add all the dry ingredients and the honey and mix again until smooth batter. Let the batter stand for about 5 minutes. Bake the pancakes in coconut oil in a skillet over medium heat.
Enjoy your yummy American pancakes with fresh berries and maple syrup.
My juices I made in a juice extractor. Just use the fruits and vegetables you like to make your juice. My beloved Macacos acai bowl you will find how to do here.
Have a magical first of January!
Hugs Maya