Jag har det perfekta raw & glutenfria springrolls receptet med smarrig sesamsås. Såååå gott!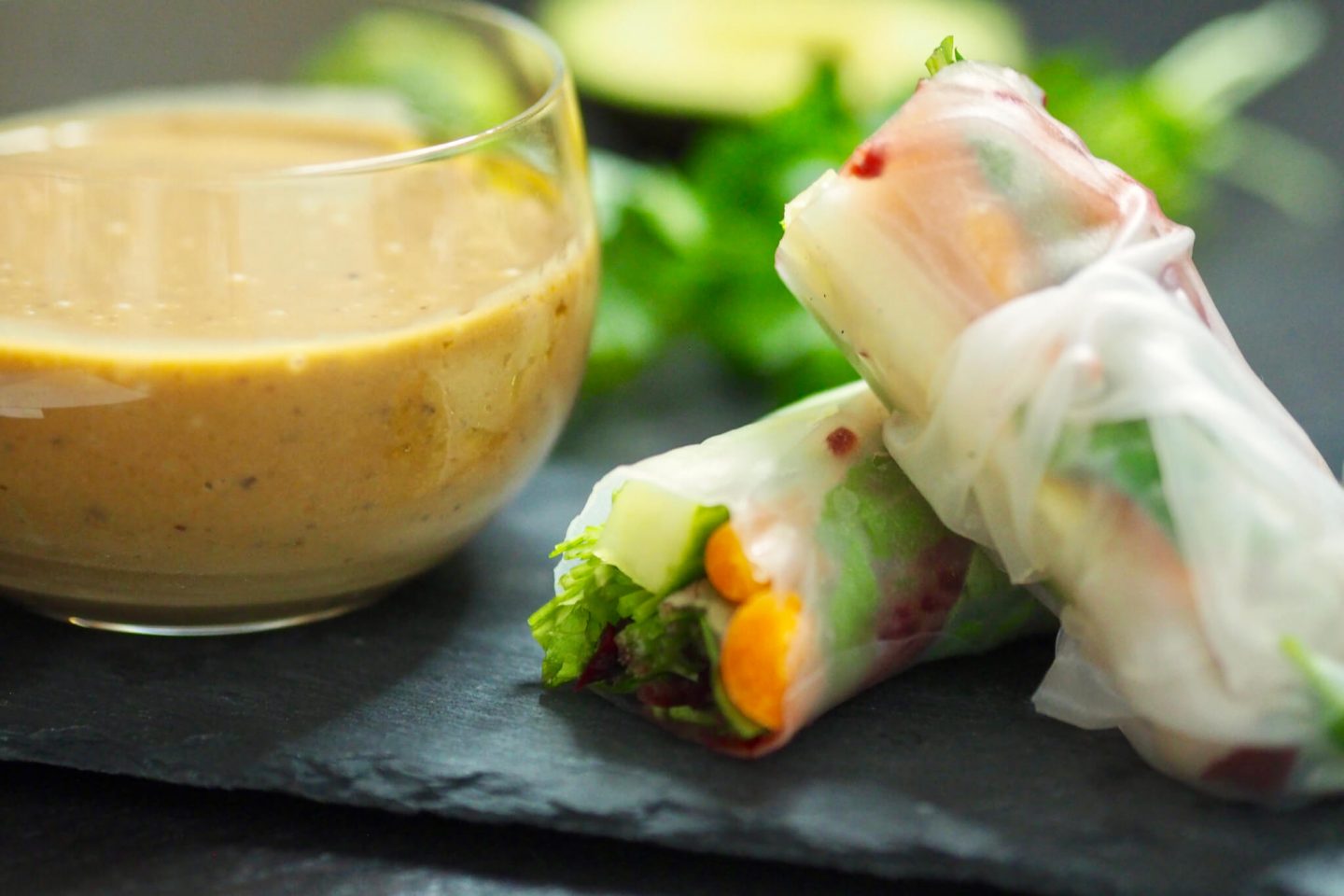 Dessa glutenfria springrolls alltså!! Otroligt enkla att göra, goda och du behöver inga bestick när du äter. Just the way I like it.
De är raw & glutenfria med en otroligt god sesam sås till.
Springrolls med sesamsås
Ingredienser
6 rispapper
1 avokado
1 1/2 skalad morot
1/2 gurka
1/2 skalad & riven rödbeta
blandsallad
Färsk basilika & koriander
Gör så här: Skär rödbetan på mitten och grov hacka den i matberedaren. Skär morötter, gurka & avocado i tunna skivor. Ta fram en bunke med ljummet vatten. Doppa ett rispapper i taget i bunken tills det blivit mjukt. Använd en skärbräda för att lägga ut rispappret. Ta fram salladen och lägg ut vågrätt men spara ca 2 cm på varje kant. Bygg sedan på med resten av ingredienserna i den ordningen du önskar. Glöm inte den färska kryddorna. Ta sedan en kant och börja rulla försiktigt så att pappret håller sig intakt. Vik in kanterna mot mitten medan du rullar så att din springroll försluts. När du har en fin fast rulle kan du försiktigt dela den på mitten.
Sesamsås
Ingredienser
2 msk sesamfrön
1/2 dl olivolja
2 tsk senap
2 1/2 msk äppelcidervinäger
2-3 dadlar
1 tsk lime
1 vitlöksklyfta
Gör så här: Mixa alla ingredienserna till du får en geggig och härlig konsistens. Smaka av och addera eventuellt mera dadlar för ökad sötma.
Servera tillsammans med dina glutenfria springrolls & njut till ett trevligt sällskap. Kärlek Maya
---
Rain and really bad weather outside, you just want to crawl under a blanket with a good snack on the sofa. Or what do you say? When the weather is like it has been today, I do not even want to stick out my nose. I'm such a boring person-days like this. It's just want to be inside, with my cozy clothes and healthy snacks. I have a perfectly raw and gluten-free Friday snack for you. Spring rolls with yummy sesame sauce. Soooo good!
These springrolls are incredibly simple to make, tasty and you need no cutlery to eat them. Just the way I like it.
Rawfit spring rolls with sesame
Ingredients
6 rice paper
1 avocado
1 1/2 peeled carrot
1/2 cucumber
1/2 peeled & grated beetroot
mixed salad
Fresh basil and coriander
Proceed as followed: Cut the beetroot in half and roughly chop it in the food processor. Cut the carrots, cucumber and avocado into thin slices. Prepare a bowl of lukewarm water. Dip one rice paper at a time into the bowl until it is soft. Use a cutting board to lay out the rice paper. Take the salad and put it out horizontally but save about 2 cm on each edge. Then build on with the rest of the ingredients in the order you want. Do not forget the fresh herbs. Take a edge and start rolling gently so that the paper stays intact. Fold in the edges toward the center while you roll your springroll. When you have a nice solid roll, gently split it in half.
Sesame sauce
Ingredients
2 tablespoons sesame seeds
1/2 cup olive oil
2 teaspoons mustard
2 1/2 tablespoons cider vinegar
2-3 dates
1 teaspoon lime
1 clove garlic
Proceed as follwed: Mix all ingredients until you get a gooey and yummy texture. Taste and add more dates for added sweetness.
Serve with your rawfit spring rolls and enjoy a nice company. Love Maya