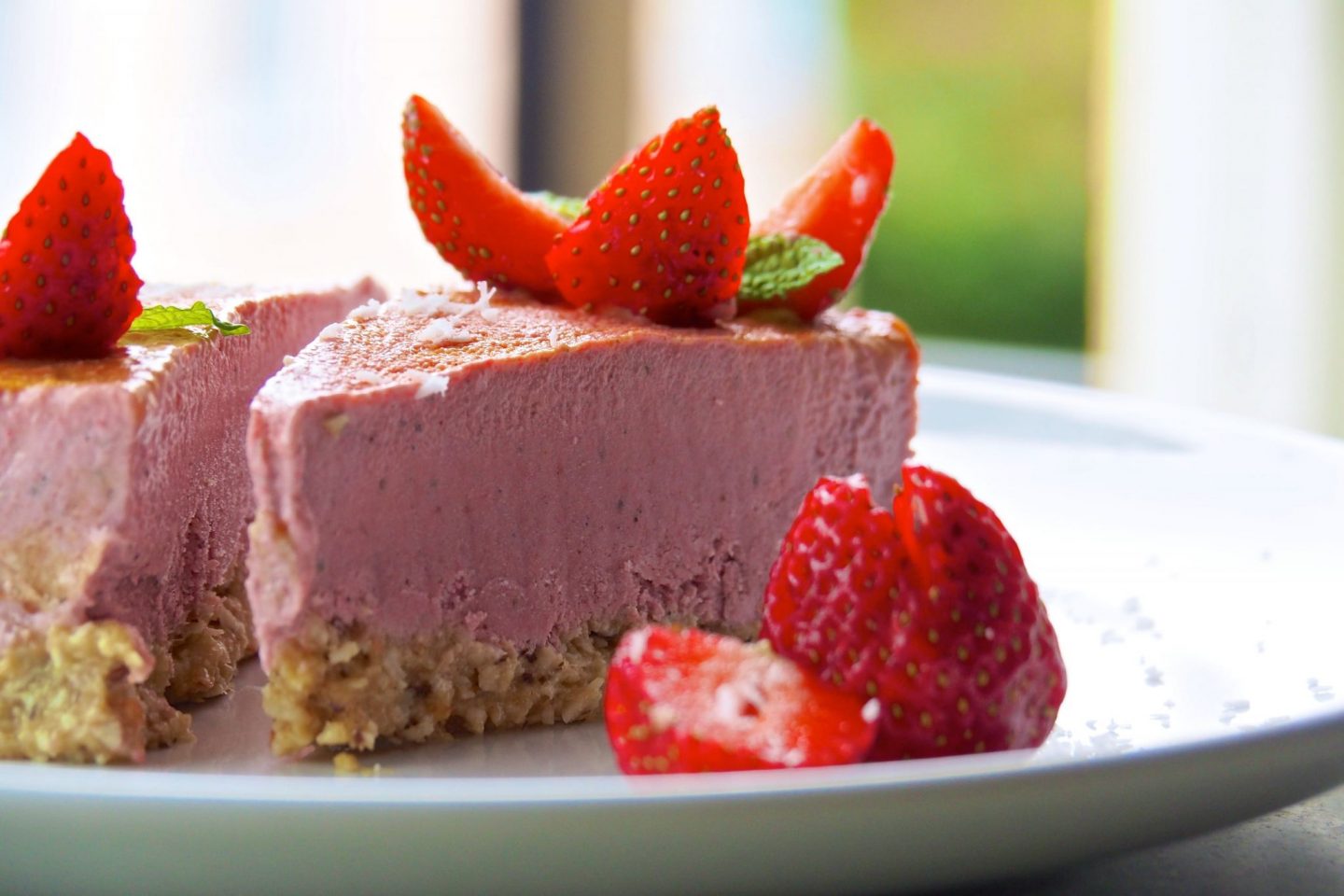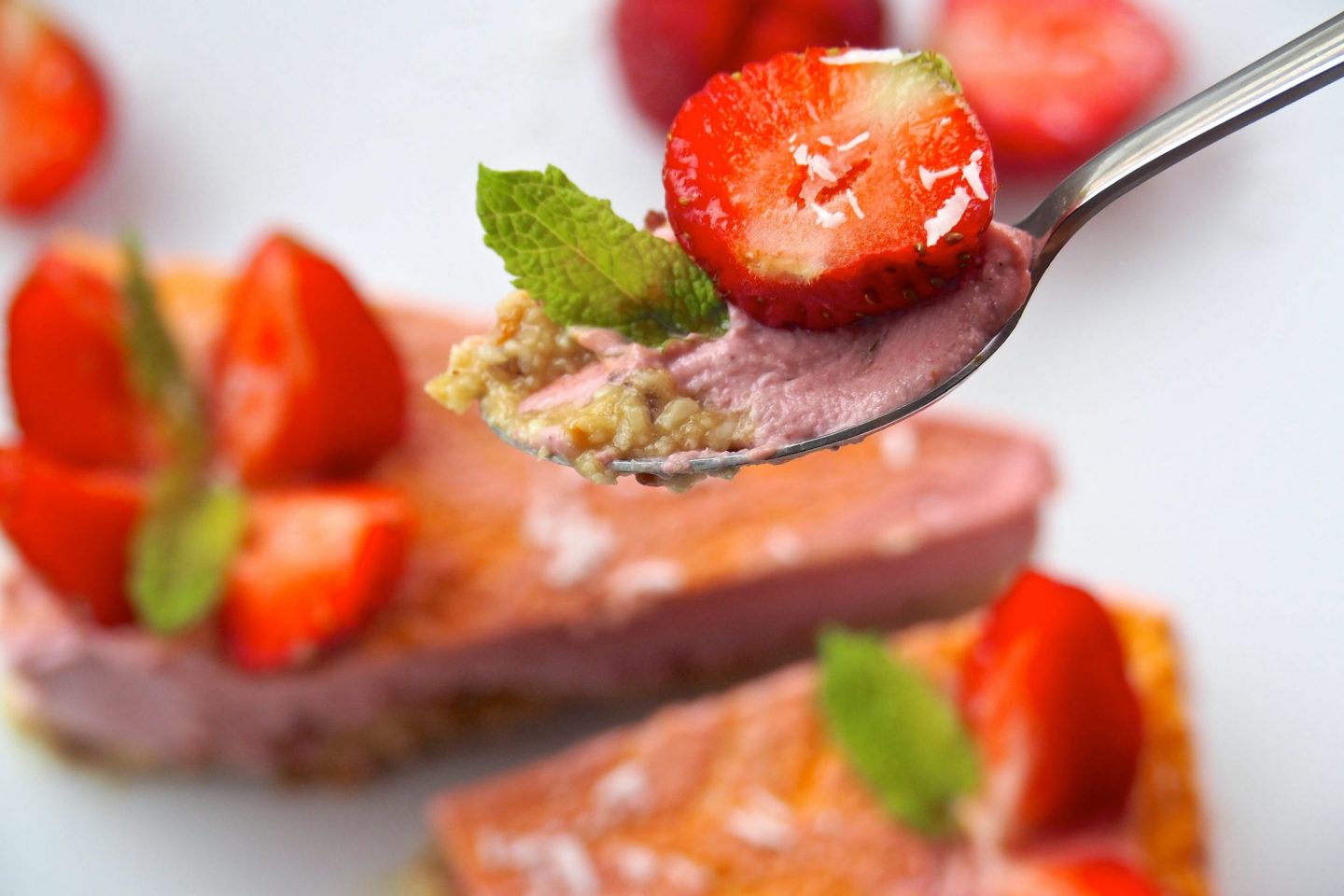 Snart är det midsommar och då vill jag gärna tipsa om den här goda cheesecaken med jordgubbar – perfekt istället för traditionell jordgubbstårta! Det är alltså en raw jordgubbstårta med mango och passionsfrukt. YUMMY!
Raw krämig jordgubbstårta med inslag av mango & passionsfrukt
Ingredienser
Botten:
3 dl mandlar, blötlagda går även att mixa som det är.
1 dl kokosflingor
1-2 dl fryst mango, tinad
10-15 dadlar, beroende på hur sött du vill ha botten
Gör så här: Kör mandel till ett fint kross i en matberedare. Tillsätt övriga ingredienser och mixa ordentligt till en jämn massa. Klä botten av en rund form med löstagbar kant.
Ställ in i frysen och fortsätt göra fyllningen.

Fyllning:
4 dl cashewnötter, blötlagda ca 3-4 timmar
1 liter ekologiska eller närproducerade jordgubbar
1 msk vaniljpulver
1-2 msk ekologisk honung
1 lime, zest och saft
1 msk passionsfrukt, fryst tinad eller 2 st färska
1 dl kokosolja, smällt
1 krm havssalt
Gör så här: Mixa alla ingredienser i en Vitamix eller en stark blender till en slät och tjock smet. Häll den krämiga fyllningen över den frysta botten och bred ut till ett jämt lager.
Topping:
1 msk passionsfrukt, fryst tinad eller 2 st färska
Gör så här: Häll passionsfrukten över tårtan i stora cirklar med en spritz. Ta därefter ett smalt redskap och dra roliga mönster eller blanda försiktigt runt så att jordgubbsfyllningen och passionsfrukten blandas i hop. Låt kreativiteten flöda!
Ställ in hela tårtan rakt i frysen eller i kylskåpet, men då kan du täcka den med plastfolie. Låt stå över natten eller några timmar i kylskåpet beroende på när du vill servera den.
Njut på och garnera med färska jordgubbar!
Kramar Maya
——————————————————————————————————–
Raw creamy strawberry cake with mango & passion fruit
Ingredients
Bottom:
3 dl almonds, soaked can also mix as it is.
1 dl coconut flakes
1-2 dl frozen mango, thawed
10-15 dates, depending on how sweet you want the bottom
Proceed as followed: Mix the almonds to a fine flour in a food processor. Add the remaining ingredients and mix thoroughly into a smooth mass. Dress the bottom of a round shape dish with detachable edges.
Set in the freezer and continue to make the filling.
Filling:
4 dl cashews, soaked 3-4 hours
1 liter of organic or locally grown strawberries
1 tablespoon vanilla powder
1-2 tablespoons organic honey
1 lime, zest and juice
1 tbsp passion fruit, freeze-thawed or 2 fresh
1 dl coconut oil, melted
1 pinch sea salt
Proceed as followed: Mix all ingredients in a Vitamix or a strong blender until smooth, thick batter. Pour the creamy filling over the frozen bottom and spread into an even layer.
Topping:
1 tbsp passion fruit, freeze-thawed or 2 st fresh passionfruits
Proceed as followed: Pour Passion fruit over the cake in large circles with a spritz. Then take a narrow tool and draw funny patterns or mix around gentley so that the strawberry filling and passion fruit is mixed together. Get creative!
Set the whole cake straight in the freezer or in the refrigerator, but then you can cover it with plastic wrap. Let stand overnight or a few hours in the fridge, depending on when you want to serve it.
Enjoy and garnish with fresh strawberries!
Xoxo Maya