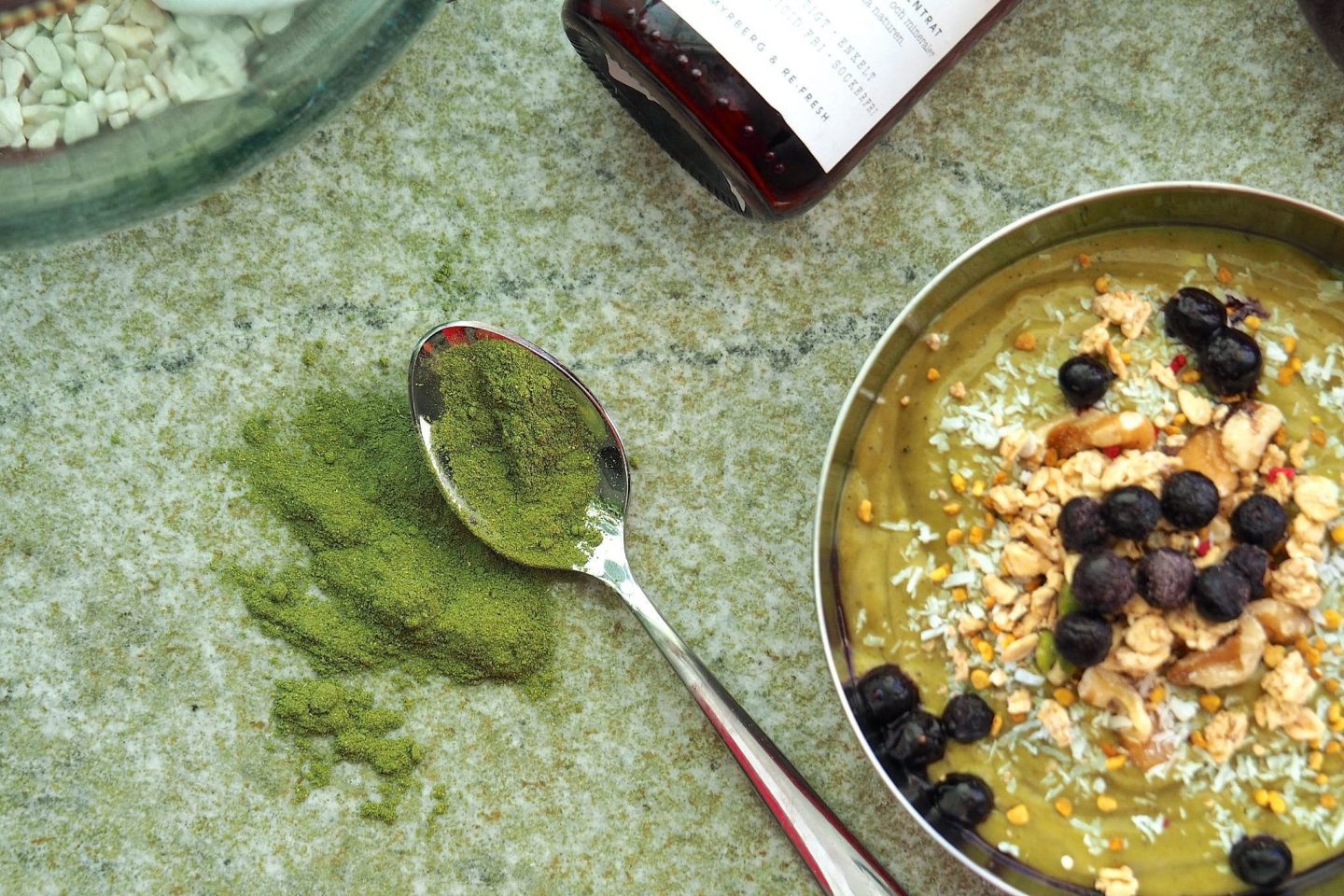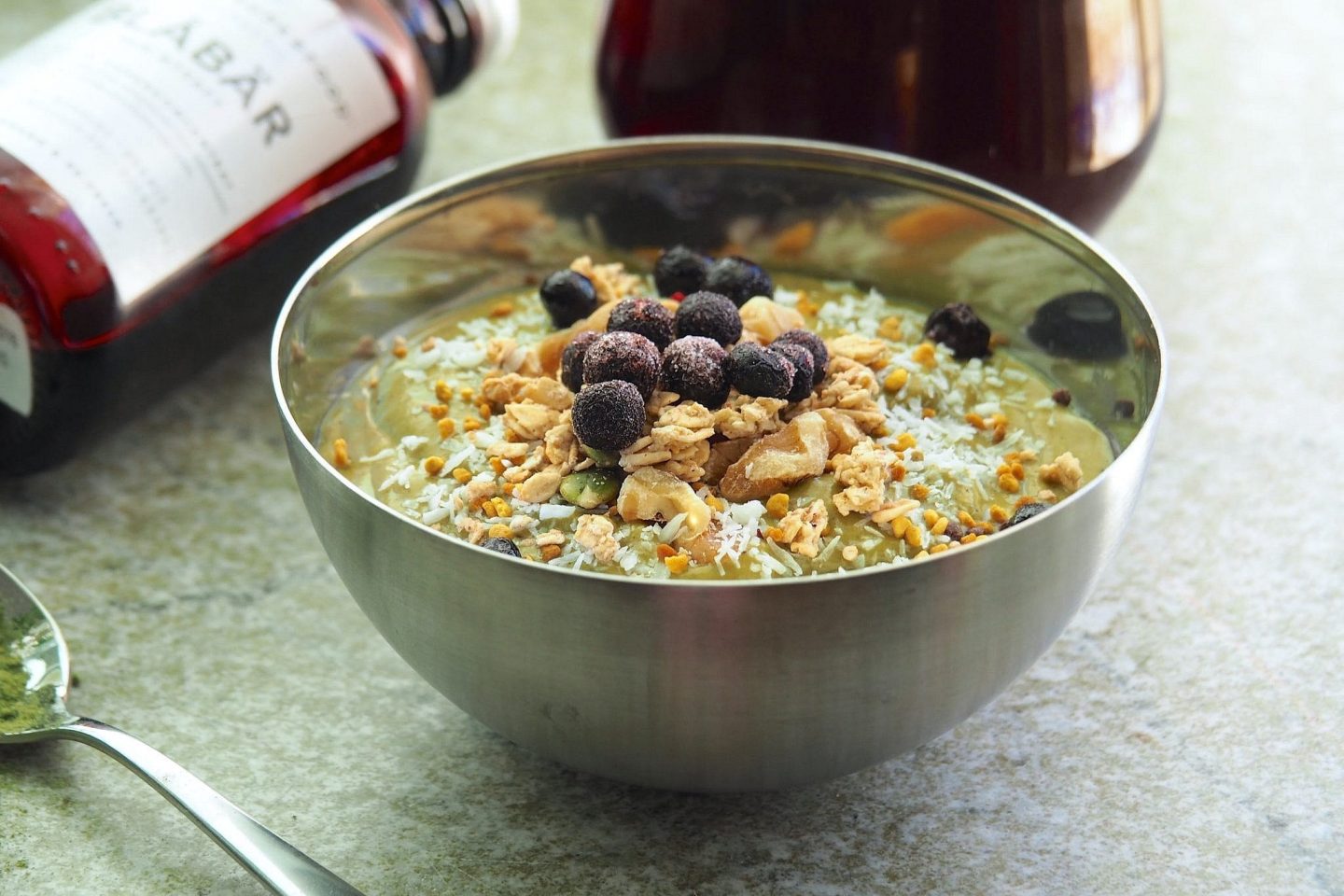 Nu är jag hemma från Skåne och energi är på top! Att komma bort lite emellanåt, även om det är tråkigheter det gäller, ger mig verkligen perspektiv och denna gången även ny energi.
Jag vaknade imorse och studsade upp ur sängen och min pojkvän skrattade åt mig och sa "nu är virvelvinden tillbaka" hahaha! Jag är vanligtvis ett energi knippe och det är oftast full fart på mig, men idag är det som att jag druckit 15 koppar kaffe. LOL!
Jag vill givetvis behålla denna enorma livsenergi jag känner idag, så då är det viktigt att ge kroppen mat som den inte blir trött utav.
Jag väckte pojkvännen med en grön smoothie-bowl gjord på avokado, banan, vaniljpulver, grekisk honung, Friway hampa protein och gurkmeja. När jag gör mina smoothie-bowls går jag oftast inte efter något recept utan jag "freestylar" och smakar av efterhand. Det blir mycket roligare då och jag låter kreativiteten flöda fritt.
Istället för just en kopp kaffe, som många dricker på morgonen, väljer jag att blanda råsaft av blåbär från Nordic superfood by Linda Myrberg. Denna koncentrerade blåbärs-råsaft ger mig nästintill samma effekt som kaffe, jag blir verkligen speedad. Rekommenderas att prova!
Superfakta om blåbär: Blåbär är fullproppade med vitaminer och mineraler, till exempel C-vitamin, B-vitamin. kalcium, magnesium, kalium och fosfor. Det är en av världens starkaste antioxidanter och hjälper kroppen att motverka friradikaler som bildas vid en rad olika processer i kroppen. Blåbär är bra för ögonen och synen på flera olika sätt.
Nu har jag startat dagen på bästa oslagbara sätt. Dags att packa väskan och hoppa på pendel in till stan för att träna Be.Core.
Stor kram
---
Now I'm home from Skane and my energy is on top! To get away a little from time to time, even if its for sad things, really gives me perspective and this time also new energy.
I woke up this morning and bounced out of bed and my boyfriend laughed at me and said "now the whirlwind is back" hahaha! I'm usually a bundle of energy and I am usually on full speed, but today it's like I drank 15 cups of coffee. LOL!
I would of course like to keep this high energy I feel today, so then it's important to eat food that does not wear me down.
I woke up my boyfriend with a green smoothie-bowl made of avocado, banana, vanilla powder, Greek honey, FRIWAY hemp protei, and turmeric. When I make my smoothie bowls I usually never go after any recipe. I like to "freestyle". It is much more fun and I let the creativity flow freely.
Instead of just a cup of coffee, which many drink in the morning, I choose to mix some juice of blueberries from Nordic superfood by Linda Myrberg. This concentrated blueberry-juice gives me almost the same effect as coffee. Recommended everyone to try!
Unbeatable super facts about Blueberries: Blueberries are packed with vitamins and minerals, such as vitamin C, vitamin B. calcium, magnesium, potassium and phosphorus. It is one of the world's most powerful antioxidants and helps the body to counteract the free radicals that are formed at a variety of processes in the body. Blueberries are good for the eyes and vision in several ways.
Now I have started the day in the best unbeatable way possible. Time to pack my bags and hop on a shuttle into town to train Be.Core.
Big hugs