Vegansk rödbetssallad. Sätt färg på ditt vita vinterland med en smarrig sallad. Jag kokade ihop en smarrig vegansk lunch bestående av quinoa, rödbetor och haricot vert. Denna sallad är super enkel att göra, då den bara är att koka och krydda.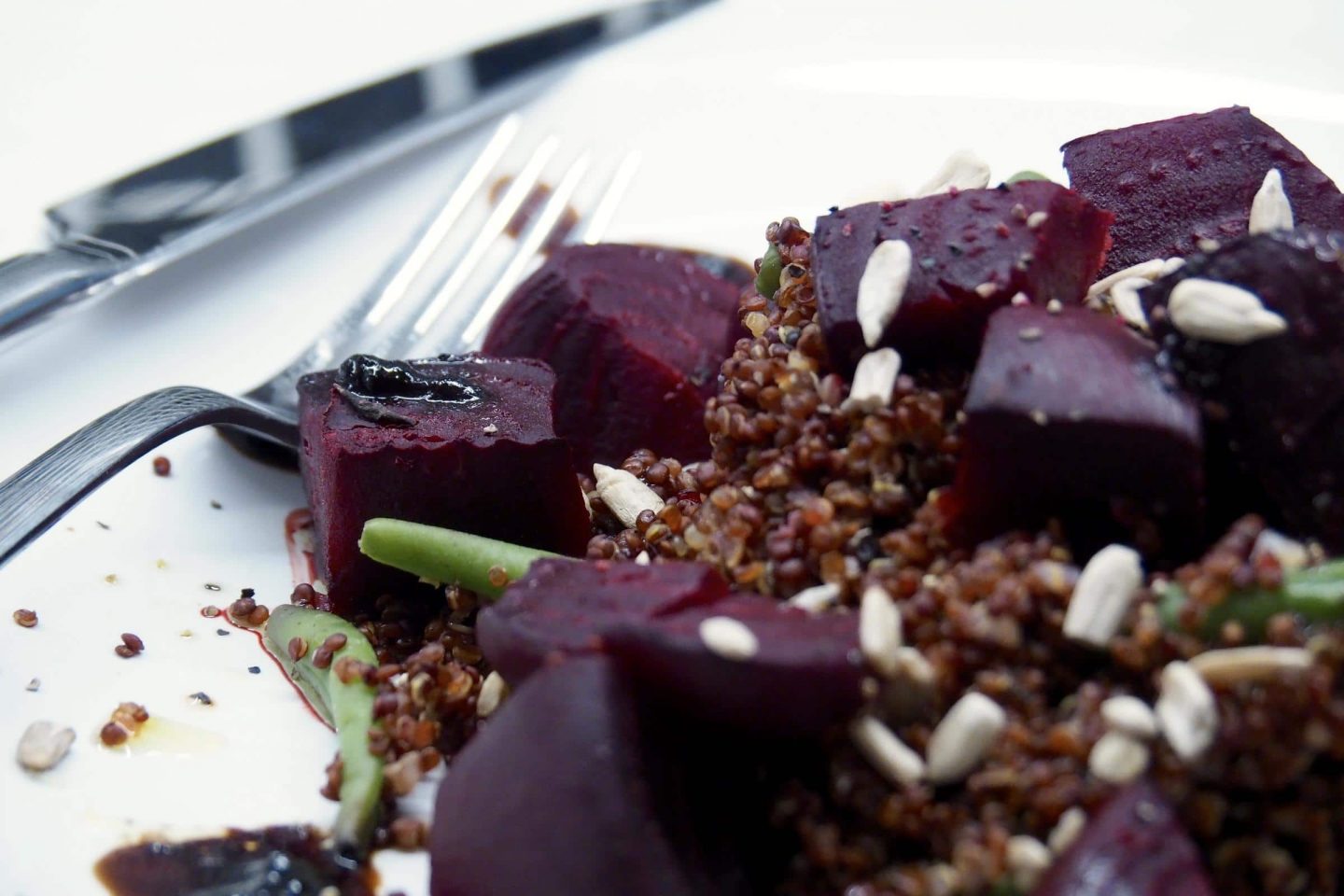 Vegansk rödbetssallad, 2 personer
Ingredienser
1 kg färska eko rödbetor
2 dl eko quinoa
Två stora nävar eko haricot vert
1 eko grönsaksbuljong
Eko solrosfrön, valfritt
Eko olivolja
Eko balsamico
salt & peppar
Gör så här: Börja med att koka rödbetorna, då de tar längst tid. Du kan även med fördel skiva rödbetorna i två delar för snabbare koktid. Efter ca halva tiden kan du börja koka quinoan & haricot vert i varsin kastrull. Lägg i grönsaksbuljongen med quinoan och låt allt koka upp. Följ anvisningarna på paketet för hur mycket vatten du behöver. När allt är klart kan du garnera med solrosfrön, olivolja, balsamico, salt & peppar.Njut av en trevlig vegansk lunch! Kramar Maya
---
Add some color to your white winter land with a yummy vegan beetroot salad.
Since I was at home all day yesterday and worked I made myself a yummy vegan lunch consisting quinoa, beets and green beans. This salad is super simple to make since you just have to boil and season.
Vegan beetroot salad, 2 per
1 kg fresh eco beets
2 cups eco quinoa
Two large handful of eco green beans
1 eco vegetable broth
Eco sunflower seeds, optional
Eco olive oil
Eco balsamico
salt & pepper
Proceed as followed: Start by boiling the beets, since they take the longest to boil. You may also slice the beets into two parts for a faster cooking time. After half the time you can boil the quinoa and the green beans in separate saucepans. Add the vegetable broth with the quinoa and let everything boil. Follow the directions on the package on how much water you need. When everything is ready, you can garnish with sunflower seeds, olive oil, balsamic vinegar, salt & pepper.
Enjoy a nice vegan lunch! Hugs Maya