Vad enligt dig är den perfekta frukosten? Jag älskar frukost där jag kan sitta länge och äta med goda vänner. En frukost favorit hemma hos mig är smoothie bowl med torkat bovete och färska bär. En färsk pressad grön juice och avotoast med tomat och olivolja. Snart dags för lunch, men kanske ska äta en frukost till istället.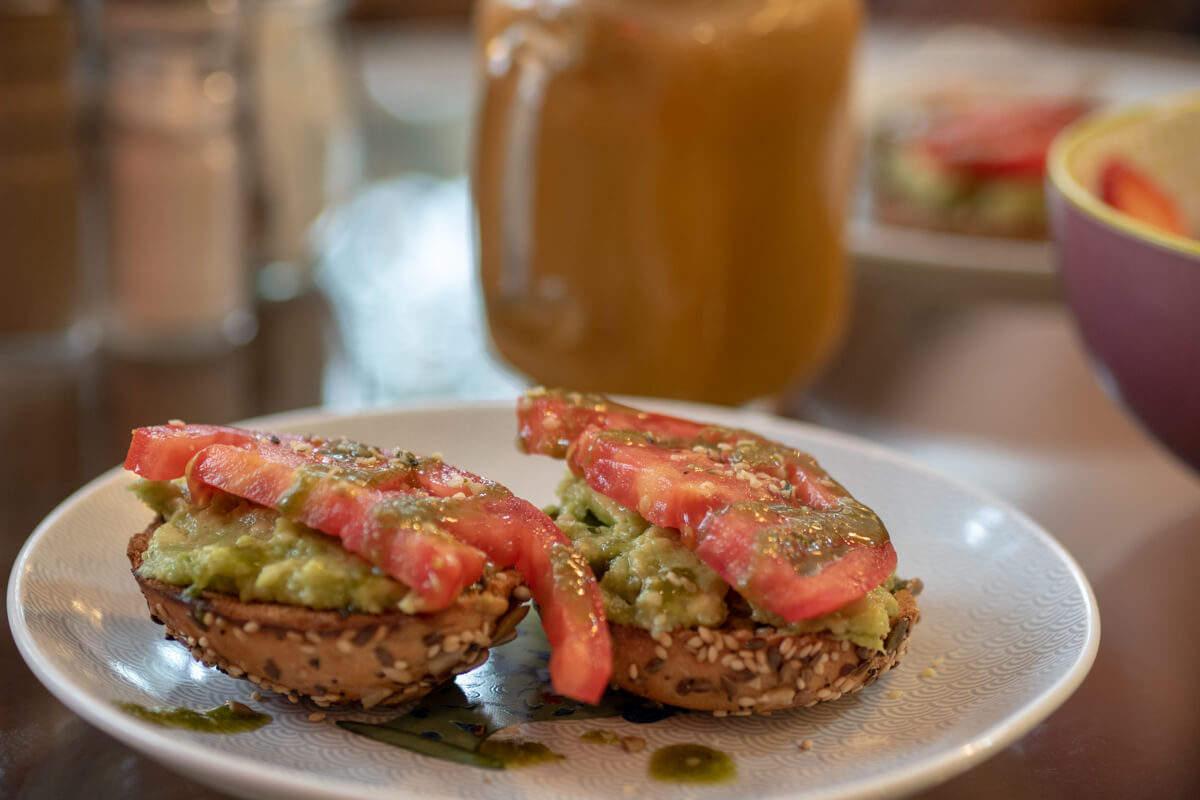 En smoothie bowl kan man göra på flera olika sätt, men jag brukar utgå från avokado eller banan som bas. Du kan antingen använda frusna råvaror eller färska. Skulle du tex använda en frusen banan så blir konstistensen mera åt sorbet hållet.
Hur gör man då den perfekt frukosten med en gröna juicen eller avokado macka? Det finns inga regler egentligen utan det är bara att kombinera fritt. Så här kan det se ut hemma hos mig.
Smoothie bowl
Ingredienser
2 avokado
Jordgubbar
2 krm vaniljpulver
några kvistar mynta
0,5 dl mandelmjölk
1 msk honung
Topping: Torkade eller rostade bovete + färska bär
Gör så här: Mixa alla ingredierser till din smoothie bowl. Smaka av och addera eventeullt mera vätska ifall du vill ha den mera lös i konsistensen. Servera med färska bär och bovete.
Grön juice
Ingredienser
1 ekologisk ananas
4 stjälkar ekologisk selleri
2-3 ekologiska gurkor
5 morötter
Några cemtineter ingefära

Gör så här: Skala ananasen och skölj resterande grönsaker. Sedan är det bara att köra ner i slow juicerna. Enjoy
Avokado toast – valfritt bröd (jag föredrar glutenfritt), mosa avokado med salt, peppar och chiliflakes. Skiva tomat. Bygg din macka hur du vill och addera färska örter eller annat som förhöjer smaken.
Njutav en boostande frukost!
---
What, according to you, is the perfect breakfast? I love breakfast where I can sit for a long time and eat with good friends. A breakfast favorite at my house is a smoothie bowl with dried buckwheat and fresh berries. A freshly squeezed green juice and avo toast with tomato and olive oil. YUM!
A smoothie bowl can be made in several different ways, but I usually use avocado or banana as a base. You can either use frozen fresh fruit. For example, if you use a frozen banana, the constancy becomes more like a sorbent.
How to do the perfect green juice or avocado toast look like? There are no rules really you can just combining freely. This is how it may look like in my kitchen.
Smoothie bowl
ingredients
2 avocado
strawberries
2 pinches vanilla powder
Mint
0.5 dl almond milk
1 tablespoon honey
Topping: Dried or roasted buckwheat + fresh berries
Proceed as followed: Mix all ingredients into your smoothie bowl. Taste and add more liquid if you want it looser in the consistency. Serve with fresh berries and buckwheat.
Green juice
ingredients
1 organic pineapple
4 stems from organic celery
2 organic cucumbers
5 carrots
Some centimeters ginger
Follow these steps: Peel the pineapple and rinse the remaining vegetables. Put it all in the slow juicer and enjoy.
Avocado toast – your choice of optional bread (I prefer gluten-free), mash avocado with salt, pepper, and chili flakes. Slice a tomato. Build your toast how you want and add fresh herbs or anything else that enhances the taste.
Enjoy a boosting breakfast!