Brunchpannkakor med egen gjord nutella, vem gillar inte det? Sugna på smarrigaste brunchen, som boostar din kropp med bra energi!? Då ska du testa att göra dessa goda bovete pannkakor med kokosgrädde och jordnöts-nutella. Vem gillar inte nutella.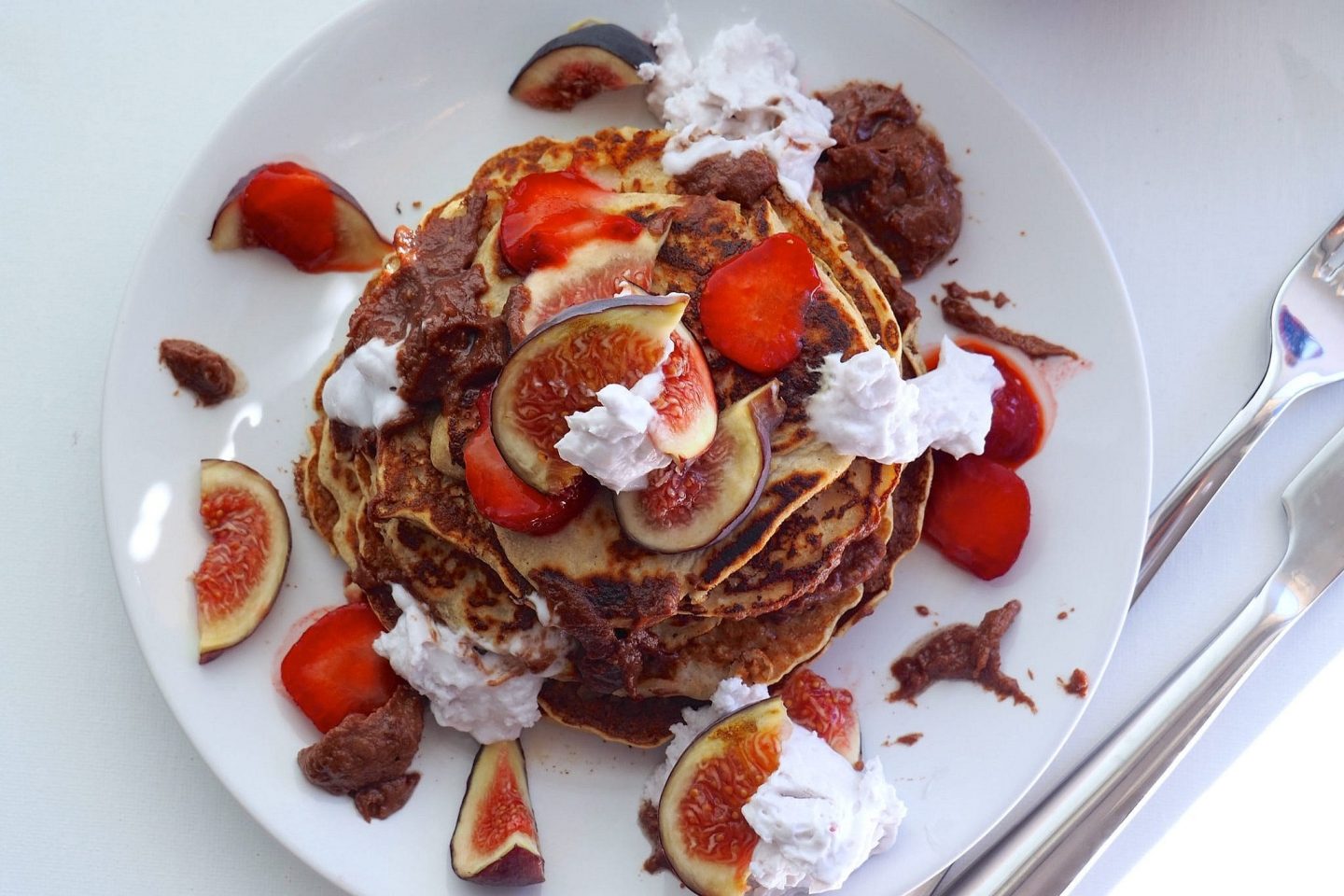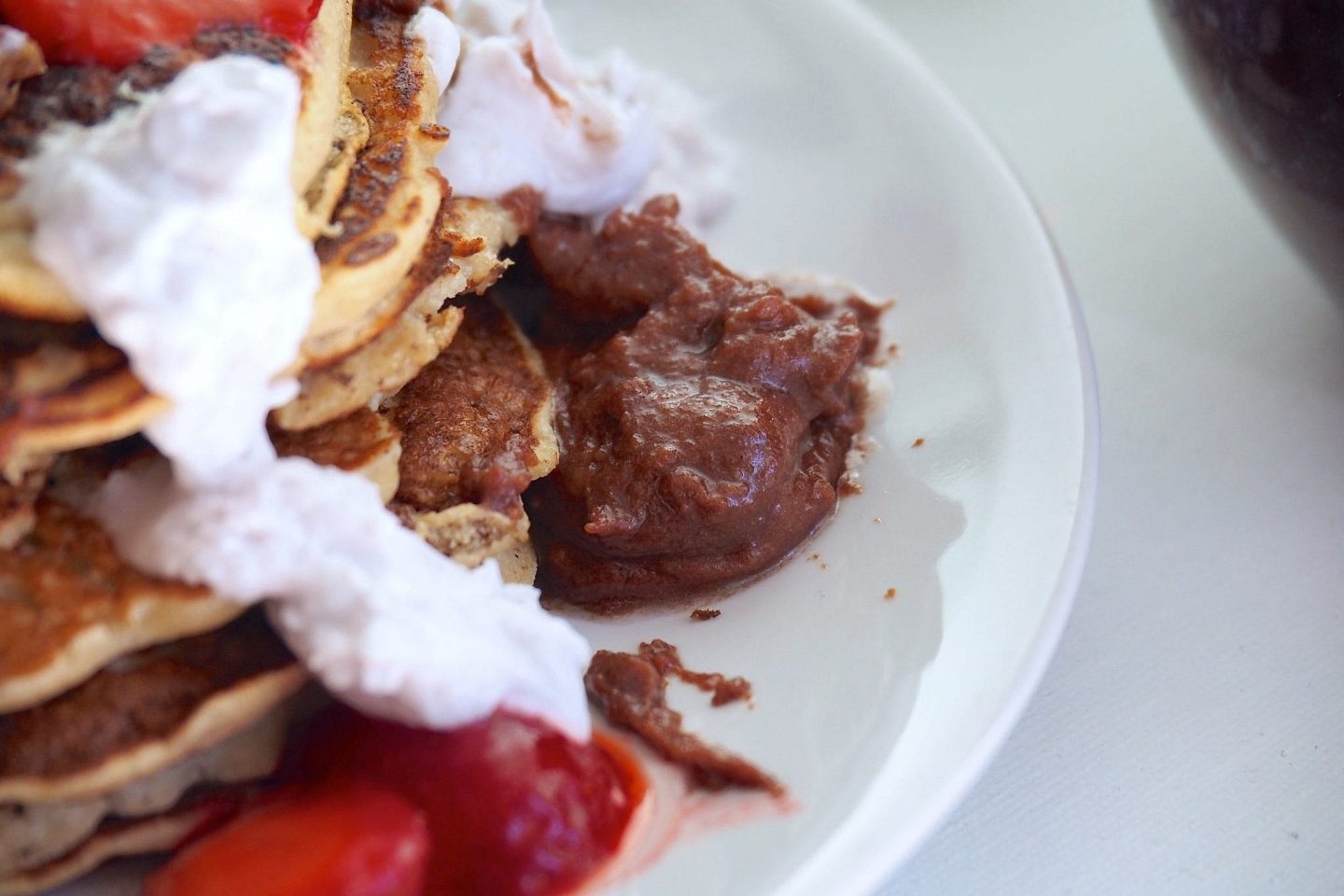 Min vanliga smoothie-bowl till frukost skippade jag idag och gjorde istället en större brunch med fluffiga bovetepannkakor och massor av godsaker på. Brunchpannkakor med egen gjord nutella, yes!
Bovetepannkakor
Ingredienser
1 dl bovetemjöl
1 dl kokosmjöl
2 ägg
1/2 tsk vaniljpulver
1 krm salt
1/2 msk kokosolja
1/2 msk fiberhusk
4-5 dl havremjölk eller mandelmjölk
Gör så här: Blanda ihop alla ingredienserna till pannkakssmeten. Låt den stå i ca 5 min medan du mixar/vispar jordnöts-nutellan och kokosgrädden. Stek sedan pannkakorna på båda sidor i lite kokosolja tills de fått fin färg. Garnera med jordgubbar, färska fikon och blanda dig lite färsk råsaft från svarta vinbär (nordic superfood by Linda Myrberg)
Kokosgrädde: Vispa tjocka delen på kokosmjölken eller använd dig av färdig kokosgrädde. Vispa med elvisp till den fått den konsistensen du önskar. Låt stå i kylskåpet innan servering.

Jordnöts-nutella: Mixa 1 msk jordnötssmör, 1 msk kokosolja, 1 tsk raw kakao & 2 tsk honung. Tillsätt en liten skvätt kokosgrädde om du vill få den lite fluffigare.

Med kärlek Maya
---
Hungry for a delicious brunch, which will boost your body with good energy !? Then you have to try these good buckwheat pancakes with coconut cream and peanut-nutella.
I slept for 10 hours this night (I guess I needed some sleep) and woke up with a hunger like no other. I skipped my usual smoothie bowl for breakfast today and made a large brunch with fluffy buckwheat pancakes instead with lots of goodies on.
Buckwheat pancakes
Ingredients
1 dl buckwheat flour
1 dl coconut flour
2 eggs
1/2 teaspoon vanilla powder
1 pinch of salt
1/2 tbsp coconut oil
1/2 tbsp Fiberhusk
4-5 dl oat milk or almond milk
Proceed as followed: Mix all the ingredients for the pancake batter. Let it stand for about 5 minutes while you mix/whisk the peanut nutella and coconut cream. Then fry the pancakes on both sides in a little coconut oil until golden. Garnish with strawberries, fresh figs and mix it up some fresh black currant juice.
Coconut Cream: Whisk the thick part of the coconut milk or use some ready coconut cream. Use an electric mixer to get the consistency you want. Let it stand in the refrigerator before serving.
Peanut-nutella: Mix 1 tablespoon of peanut butter, 1 tablespoon coconut oil, 1 teaspoon raw cocoa and 2 teaspoons of honey. Add a small splash of coconut cream if you want to get the nutella little fluffier.
Enjoy this sunny Sunday!
Love Maya