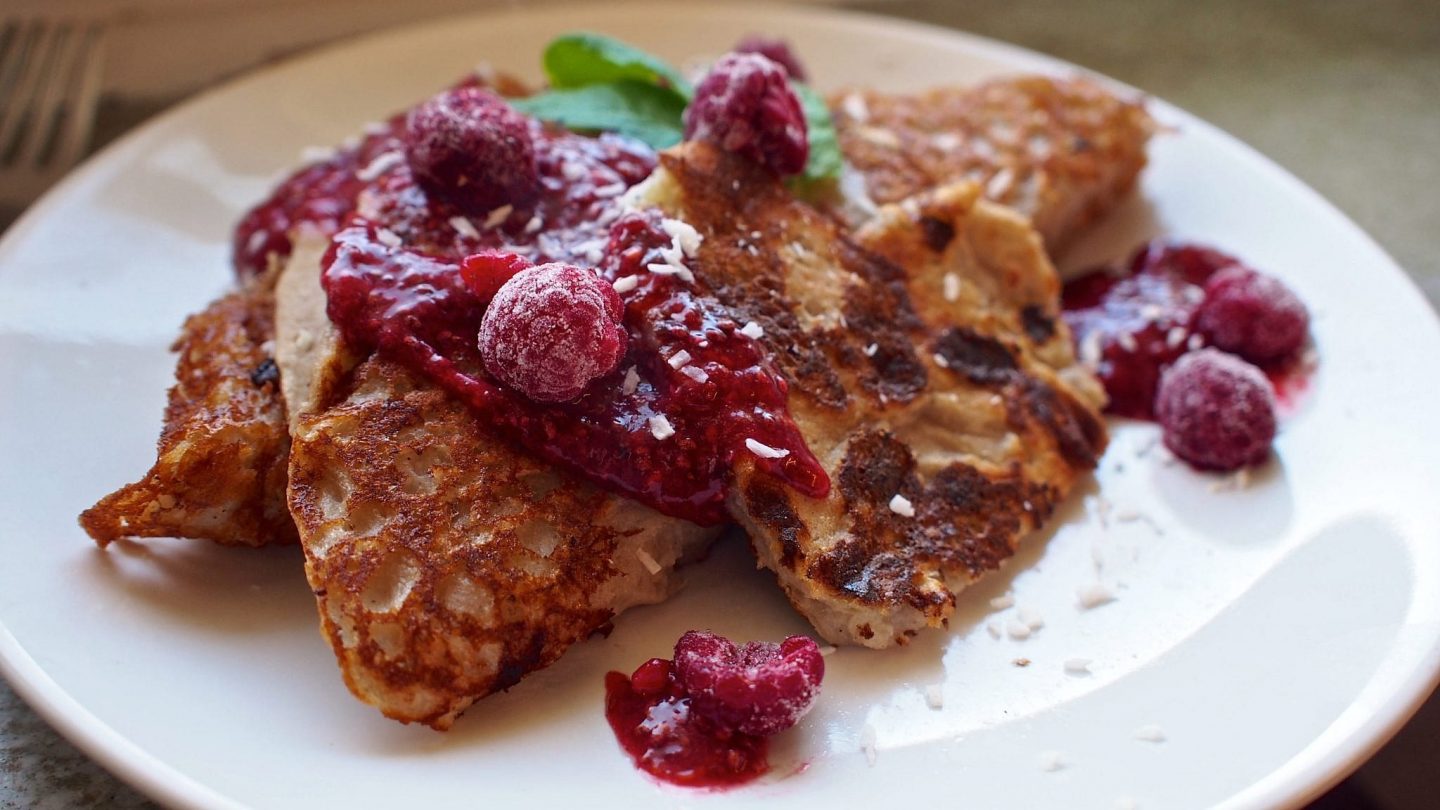 Starta din vecka med en smarrig och hälsosam frukost gjord på bovete pannkakor och hemma gjord chiasylt. <3
Jag har precis mumsat i mig 4 pannkakor och massvis med sylt helt fri från raffinerat socker. Yummy! Denna frukost är lika god som den ser ut, det kan jag lova! Allt gick såklart otroligt snabbt att slänga ihop. Trevlig måndag goa vänner!
Bovete pannkakor – ca 5 pannkakor
Ingredienser:
1 dl bovetemjöl
1/2 msk fiberhusk
1/2 krm ekologisk vaniljpulver
2 st ekologiska bananer (går även bra med 2 ägg)
3 dl havremjölk (går även bra med mandelmjölk)
En nypa himalayasalt
Gör så här: Blanda alla torra ingredienser i en bunke. Blanda därefter ner bananerna och mjölken till en fin och jämn smet. Låt smeten stå medan du förbereder chiasylten.
Stek sedan dina pannkakor i kokosolja på låg/medium värme och ha tålamod innan du vänder på dem. Då pannkakorna är gjorda på banan kan det upplevas lite svårare att hantera.
Chia sylt
Ingredienser:

2 msk chiafrön
1 dl vatten
1 1/2 dl hallon
1 krm ekologisk vaniljpulver
1 tsk citronsaft
4 st dadlar
Gör så här: Blanda chiafrön och vatten i en lite skål. Rör runt ordentligt så att alla frön blandats väl. Låt stå i ca 5-10 min. När chiafröna har bildat en tjock gelé kan du mixa ihop de med resterande ingredienser, med hjälp av en stavmixer. Smaka av sylten och addera eventuellt mera dadlar för mer sötma. Nu kan du återgå till att börja steka dina pannkakor!
Avnjut pannkakorna tillsammans med din chiasylt, kokosflarn och färska hallon. Enjoy!
Puss & kram Maya
---
Start your week with a yummy and healthy breakfast made of buckwheat pancakes and homemade chia jam. <3
I just ate 4 whole pancakes and lots of jam completely free of refined sugar. Yummy! This breakfast is as good as it looks, I can promise you that! And of course, everything was incredibly easy to make. Nice Monday everyone!
Buckwheat pancakes – about 5 pancakes
Ingredients:
1 cup buckwheat flour
1/2 tbsp Fiberhusk
1/2 tsp organic vanilla powder
2 organic bananas (you can also use 2 eggs)
3 cups oat milk (you can also use almond milk)
A pinch of Himalayan salt
Proceed as follows: Mix all dry ingredients in a bowl. Then mix down the bananas and milk to a fine and smooth batter. Let the batter stand for a while and meanwhile you can prepare the chia jam.
Fry your pancakes in coconut oil over low/medium heat and be patient before turning them over. Since the pancakes are made of banana, you can experience some difficulties handling them.
Chia jam
Ingredients:
2 tablespoons chia seeds
1 cup water
1 1/2 cup raspberries
1 pinch of organic vanilla powder
1 teaspoon lemon juice
4 pcs dates
Proceed as follows: mix the chia seeds and water in a small bowl. Stir thoroughly so that all the seeds are well mixed. Let them stand for about 5-10 minutes. When the chia seeds have formed a thick jelly, you can mix them together with the remaining ingredients, using a hand blender.
Taste the jam and possibly add more dates for more sweetness. Now you can return to frying your pancakes.
Enjoy your pancakes along with your chia jam, coconut flakes and fresh raspberries. Enjoy!
Xoxo Maya