Jag provade att göra de "berömda" TikTok pannkakorna med smak av kanelbullar. Det blev otroligt bra och vilken smak, wow! Jag åt dem enbart med lönnsirap och inget annat, perfekt!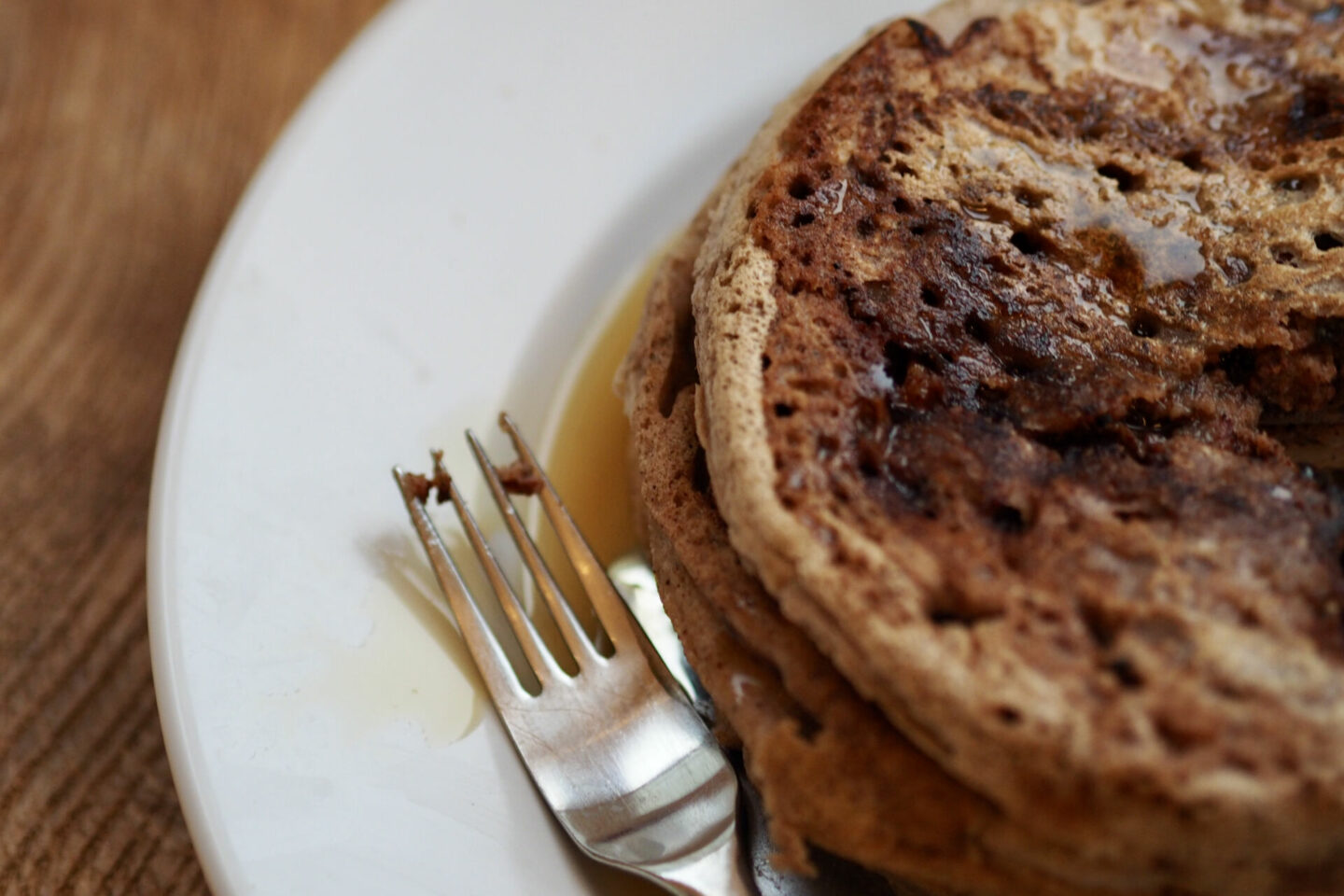 Grundreceptet till alla mina pannkakor som jag gör hittar du här – Bovete pannkakor. Glutenfria, goda och du kan göra dem i oändliga smakkombinationer.
Den här gången adderade jag även kanel, kardemumma och lite lönnsirap i smeten. Jag gjorde smeten dessutom extra tjock för att jag ville ha pannkakorna tjockare och mera geggiga. Blev succé!
Ingredienser till fyllningen:
150 gram mjölkfritt smör
1 dl lönnsirap
1-2 msk kanel
1 msk kardemumma
Extra – Lönnsirap (på pannkakorna)
Så här gör du:
Blanda ingredienserna för dina pankakor. Blanda ihop ingredienserna till kanelbulle swirls ordentligt och använd en sprits för att kunna skapa "kanelbulle swirls" på pankakorna i stekpannan när du är redo att grädda.
Det gick inte så bra för mig så slutade med att jag istället gjorde runda ringar med en gaffel. Blev inte lika snyggt, men smaken blev ju den samma.
Dessa kanelbulle-pannkakor kommer jag att göra flera gånger. Perfekta ifall du vill ha lite smarriga brunch pannkakor, men smak av kanelbullar.
Dessa pannkakor får 5/5. Enkla att göra utifrån mitt grundrecept, som du hittar nedan, och super goda!
---
The basic recipe for all my pancakes that I make can be found here – Buckwheat pancakes. Gluten-free, tasty and you can make them in endless flavor combinations.
This time I also added cinnamon, cardamom, and a little maple syrup to the batter. I also made the batter extra thick because I wanted the pancakes thicker and gooier. Was successful!
Ingredients for the filling:
* 150 grams of vegan butter
* 1 dl maple syrup
* 1-2 tablespoons cinnamon
* 1 tablespoon cardamom
Directions:
Mix well and use sprits to create "cinnamon bun swirls". It did not go so well for me so I ended up making round rings with a fork instead. Was not as nice, but the taste was the same.
I will make this cinnamon bun pancakes many more times. Perfect if you want some tasty pancakes for your brunch.