Den 10 augusti sätter Yogayamas TT igång och då går jag in i min "Yogabubbla"
Nu är det enbart 1 vecka kvar tills jag låser in mig själv på Yogayama TT och kommer sova, andas och äta Yoga och andning. Jag är peppad! Det ska bli spännande och se vad som händer med mig samt vad jag kommer att lära mig. Yoga är ju en väldigt inre transformerande aktivitet för kroppen så jag är beredd på att låta alla typer av känslor komma upp.
Redan nu, innan vi börjar självaste teacher trainingen har vi fått en del hemuppgifter som skall göras samt en hel anatomi del online. Jag som inte är en plugghäst har fasat allt pluggande, men har faktiskt tyckt att det varit riktigt intressant. Lite svårt med anatomi på engelska, men intressant ändå.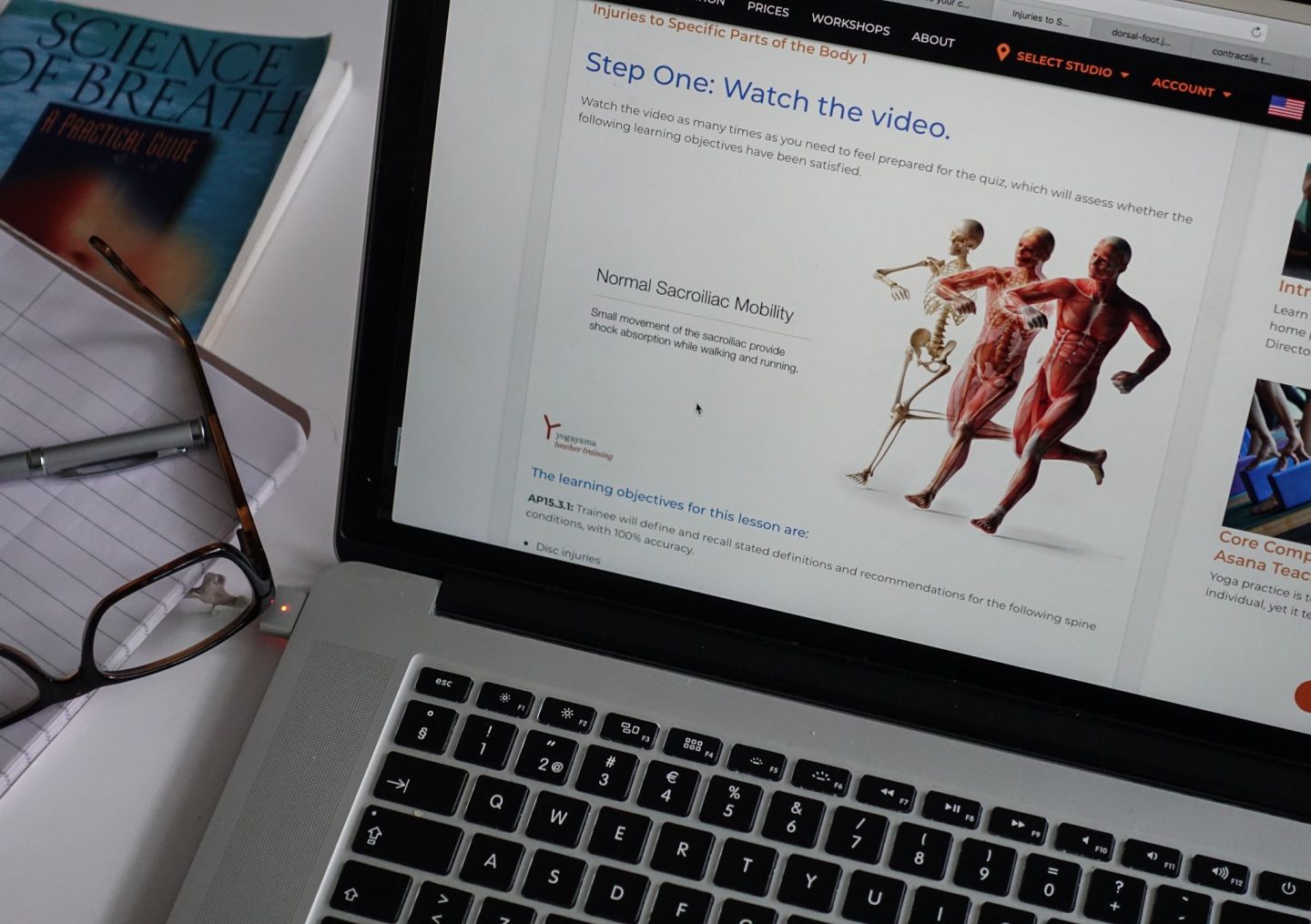 Hemupgifterna inför Yogayama TT har sett ut så här:
– Sitt med din andning och uppmärksamma den. Denna biten har varit magisk och jag har inset hur viktigt andningen är i vårt liv. Ska bli jätte intressant att fördjupa mig ytterligare i vad det innebär att andas på riktigt.
– Prova olika yoga former, minst fem st och beskriva hur du upplever dem. Jag har ju yogat i många år så hade redan provat många olika yogaformer. Just nu är jag mest intresserad av kundalini.
– Läsa en bok om grunderna i yoga för att förstå vad som väntar en de kommande 200 timmarna som utbildningen är. Denna biten har varit svårast för jag är ingen person som gillar att läsa. Jag somnar alltid och blir bara frustrerad för kommer ändå inte ihåg något och får läsa om ingen. Dock hittade jag en likväridg version av boken på Nextstory så lyssnade samtidigt som jag skummande mig igenom boken vi skulle läsa. Blev perfekt för mig.
– Utföra Anatomi online med videos och frågor. Denna biten var ett bra sätt att lära sig på fast det var många svåra anatomiska ord på engelska och mycket att komma ihåg. Tyvärr har jag redan glömt hälften…. Min hjärna funkar lite så. Känner någon igen sig? Kommentera gärna.
Många av delarna kring att plugga är inte min grej. Jag är mycket mera praktiskt lagd och gillar att se, lyssna och göra själv i praktiken för då lär jag mig bäst. Learning by doing. Jag har ju lite av en "entreprenörshjärna" som lätt vandrar iväg och har tusen saker i huvudet samtidigt. Så, det kommer bli minst sagt lärorikt att sätta mig själv i skolbänken, men det är detta jag vill så det kommer gå bra. När vi väl är på Yama den 10/8 blir det mycket mera praktsika övningar och det ser jag fram emot.
Följ min resa så ska jag försöka att att domunektera min yoga upplevelse så gott det. Puss love Maya
Tips på en enkel meditation
– En enkel meditation för dig som vill komma igång
---
Yogayama Teacher Training – soon it will start!
On August 10, Yogayama's TT starts and I will enter my "Yoga bubble".
Today it is only 1 week left until I will lock myself in at Yogayama and I am going to sleep, breathe and eat Yoga. I am psyched! It will be very exciting to see what happens to me and what I will learn. Yoga is an inner transforming activity for the body so I am prepared to let all kinds of emotions come up.
Already now, before we start, we have got some homework to do and a whole anatomy part online. Unfortunately, I am not particularly fond of reading books or studying anatomy but I have actually found it to be really interesting.
The homework that we had to do looked a little like this:

– Sit with your breath and pay attention to how it feels.
This bit has been magical and I have realized how important breathing really is.
– Try different yoga forms, at least five and describe how you experience them.
I have been practicing yoga for many years and have already tried many different yoga forms so that task was fun and easy. Right now I am most interested in kundalini.
– Read a book on the basics of yoga to understand what awaits in the next 200 hours of practicing. This piece has been the most difficult because I am not a person who likes to read. I always fall asleep and just get frustrated because I do not remember anything. However, I found an equivalent version of the book as an audiobook so I listened to it simultaneously as I skimmed through the actual book we had to read. Thas perfect for me.
– Go thru the Anatomy online with videos and questions. This homework was a great way to learn, though there were many difficult anatomical words in English and a lot to remember when answering the questions regarding muscle, skeleton and yoga anatomy. Unfortunately, I have already forgotten half of everything. My brain works a little like bit like that. Does anyone recognize this? Feel free to comment.
Many of the parts about studying are not my thing. I am much more practical laid and I like to see, listen and do things myself because then I learn the best. Learning by doing. I have a bit of an "entrepreneurial brain" that easily wanders off and has a thousand things in my head at the same time. Oh well once we are at Yama on the 10/8, it will be much more practical exercises and I look forward to that.
Follow my journey and I will try to write about my yoga experience as soon as I can. Kiss kiss love Maya
Tips on a simple meditation
A simple meditation for those who want to get started