Nu börjar min 200 timmars Hatha yogautbildning närma sig sitt slut. I mars är jag certifierad Hatha yogalärare. Så spännande!
Sist jag bloggade om utbildningen hade jag precis börjat att skriva mitt gudiningsmanus och jag tror det var i Nov 2019. Sedan dess har jag sakta, sakta börjar öva på att guida samt nu även har jag även börjat förbereda mig inför det praktiska provet som är i Mars.
Sedan sista inlägget ang utbildninngen har vi hunnit haft Ayurvedahelg, filosofihelg och nu handlar denna helgen om forskning. Vi hade desutom skriftligt prov i fredags. Gissa vad… JAG KLARADE MIG!! Jag fick alltså godkänd på den teoretiska tentan. Fy för vad stolt jag är över mig själv. Tänk att jag snart är klar och kan kalla mig Hatha yogalärare, Wow!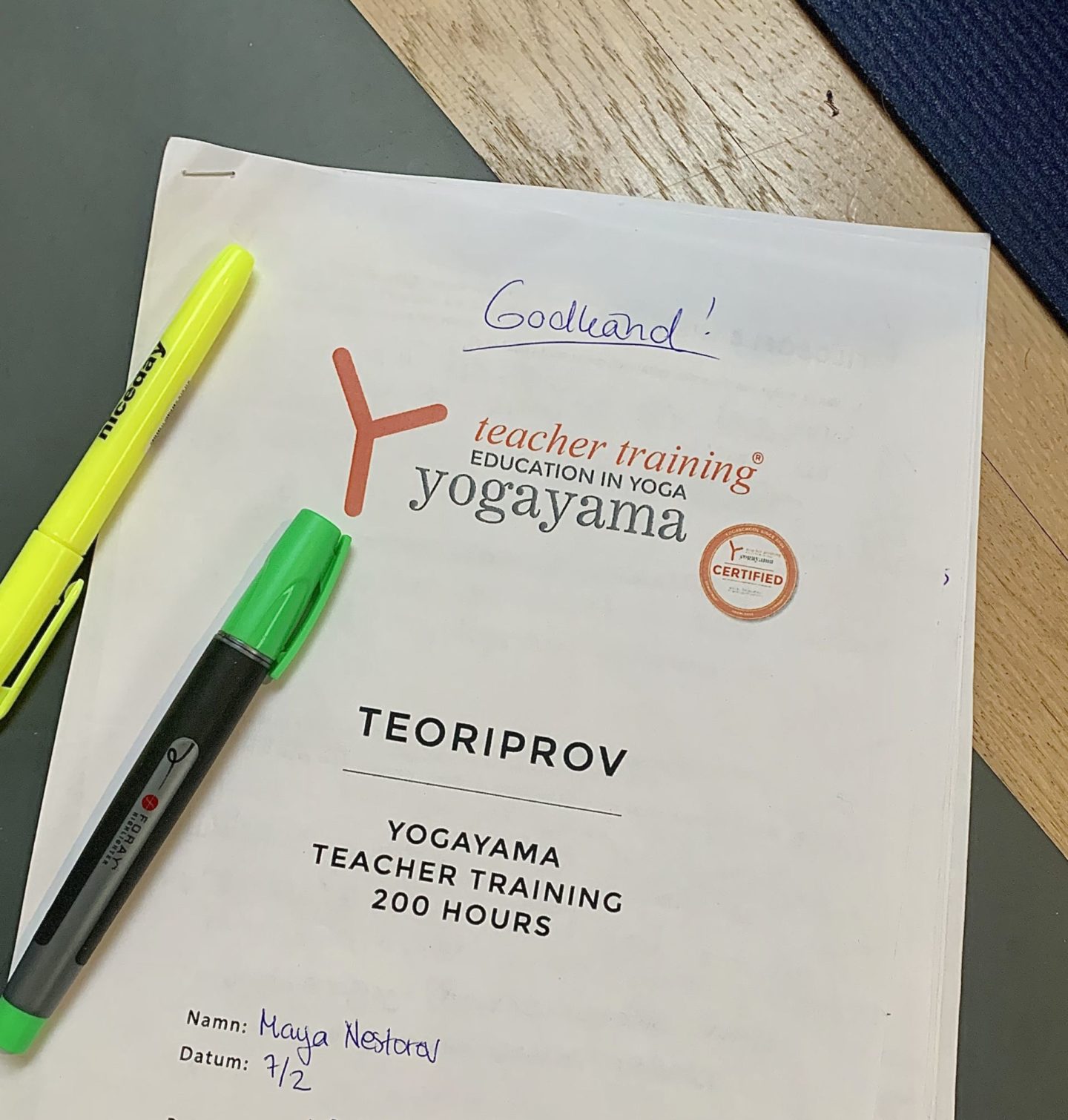 Ang Ayurveda och filosofihelgen så får jag nog säga att de hitintills har varit två av mina favorit helger på hela utbildningen. Det var otroligt intressanta båda två. Vem älskar inte filosofi och indisk läkekonst!?
Under filosofi helgen så nördade vi bl.a. in oss i olika filosofiska frågor och en massa spiritualitet som jag älskar. Ni kan ju förstå att diskussionerna var djupa, just the way I like it! Ayrveda helgen handlade om läran om livet och de tre konstituioner – Pita, Vata och Kapha. Nu ska jag inte skriva ett helt inlägg om Ayrveda, men i grund och botten handlar det om att man är olika personlighetstyper (Pita, Vata och Kapha) som behöver olika typer av kost och hänsyn. Allt är ju ganska logiskt. Vi människor är alla olika och behöver olika saker för att må bra.
Så här glada var vi efter att vi fått reda på att vi klarat provet. Det är faktiskt en av sakerna jag tar med mig från utbildningen. Alla underbara människor jag lärt känna. Vissa kanske till och med kommer vara vänner för livet, vem vet. Vi ses snart ingen. Stor kram
---
Soon my 200 hour Hatha yoga training is coming to an end. In March, I am a certified Hatha yoga teacher. So exciting!
The last time I blogged about the teacher training I had just started writing my yoga class, I think it was in Nov 2019. Since then I have slowly, slowly started to practice guiding and now I also have started to prepare myself for the practical test which is in March.
Since the last post about the education, we have had an Ayurveda weekend, philosophy weekend and now this weekend is about research made about yoga. But not only that we also had our written exam this Friday and guess what… I did it! I passed the test. I am super proud of myself.
About Ayurveda and Philosophy, I must say that so far these two weekends have been two of my favorite weekends of the entire education. Both weekends were incredibly interesting. Who doesn't love philosophy and Indian medicine, right!?
In the photo above you can see me and my classmates happy faces, its of course after the test results. It's actually one of the things I will bring with me from the education. All the wonderful people I got to know. Some may even be friends for life, who knows. See you soon and take care until next time. Big hug